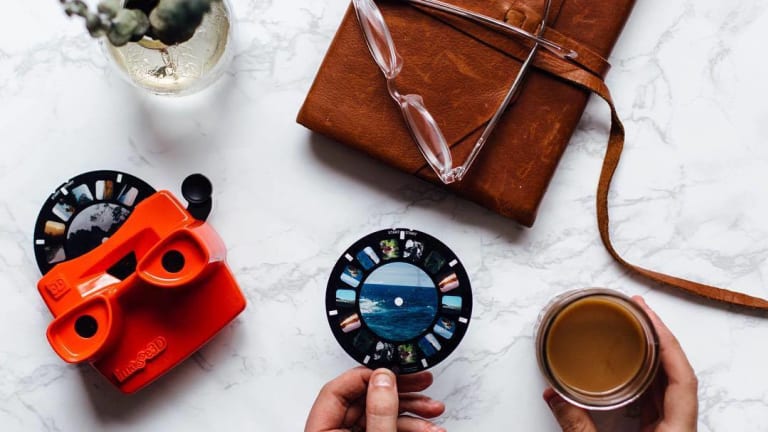 RetroViewer Photo Gift is Perfect for Mother's Day
Collect your favorite photos for a special gift that celebrates memories.
I've got a bajillion photos on my phone and I don't really enjoy them. Before cell phones, I used to make scrapbooks and photo albums. I would take my favorites and turn them into something physical to enjoy and share. Just like turntables are experiencing a renaissance, so is the photo viewer. Image 3D is bringing back the RetroViewer and it's a perfect way to share your favorite photos.
Use Code: MOMTRENDS21 for free USPS First Class shipping of a RetroViewer and reel set shipped within the U.S. 
What's Old is New
I remember collecting these reels when I was a kid. As we travelled in the family wagon, we had these viewers in the backseat. When we stopped at a roadside attraction, we'd get one of these photo wheels as a momento. For all the 70's and 80's babies out there, these wheels will hold significant memories. For the younger set, it's a novel way to see the world. The RetroViewer invites people to slow down and look at things differently.
Getting Started Making Your RetroViewer Reel
Ready to get started making your own reel? Follow these simple steps.
Start with an idea, what theme do you want to work with?
Then collect your favorite 14 photos around this theme. 
Upload your photos to the reel builder on the www.image3d.com/retroviewer website 
You can add text and customize the font and color text on the reel.
That's it! You've created your very own custom reel. 
When you're done with the reels, it's time to make your viewer. RetroViewers come in a variety of colors (red, blue, white, black). Pick a favorite color and then you can even customize your viewer with a message. 
What is Image 3D?
Image3D is a family-owned and-operated company based in the Pacific Northwest. RetroViewers are 100% made in the U.S. For 24 years, Image3D has provided individuals and organizations an exciting way to view their own photos using the RetroViewer. 
Check out this video to learn more:
Get Ready to Order Your Viewer
Instead of scrolling, scrolling, scrolling, you stop and sit with each photo. Making the reel is a blast. You can curate your favorites from a trip, or from the kiddos, make them fun or packed with meaning. It's up to you to personalize. The RetroViewer is a combination of patented technology, paired with a timeless product. This gift promises to bring a smile to everyone who looks.
A RetroViewer and reel set retails at $29.95
Ready to order? Visit www.image3d.com. 

Use Code: MOMTRENDS21 for free USPS First Class shipping of a RetroViewer and reel set shipped within the U.S. 
Note: If you decide you'd like faster shipping than First Class and/or more than one RetroViewer and reel set, a $6.25 credit will be applied to your order. 
This is a sponsored post