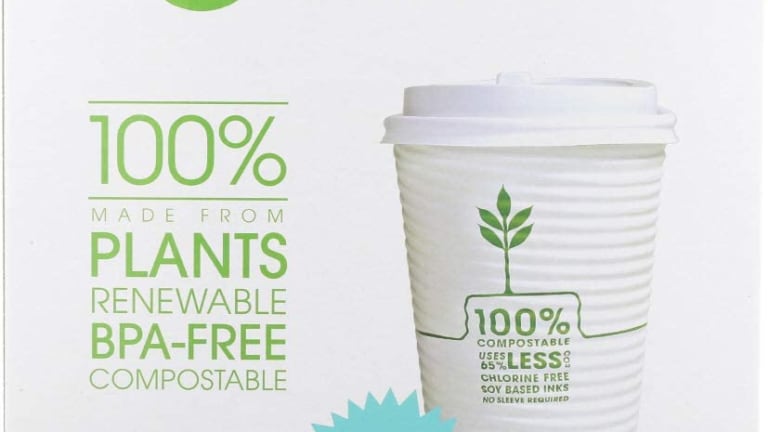 Repurpose Compostables: Disposable Hot Cups
Repurpose Compostables are disposable hot cups that are not only non toxic, they actually work.
I have had to come to terms with the fact that not everyone is comfortable or willing to bring their own reusable mug to work. I cringe every time I see someone walking around with a toxic Styrofoam cup and always think that there must be a better, more eco-friendly solution. Thankfully Repurpose brand has come up with compostable disposable cups.
Repurpose Compostables is just the type of product that I was looking for. Repurpose Compostables are disposable hot cups that are not only non toxic, they actually work! I was able to hold a hot cup of fresh (organic and fair trade!) coffee in a Repurpose Compostable without getting burned or stung. I am always on the hunt for greener ways to live.
The 12 oz. size was perfect for my morning java and it kept my coffee hot too. Repurpose Compostables also use 65% less CO2 to produce and can be composted in 90 days in a commercial setting. I love that this insulated cup is chlorine free and uses soy- based ink. Repurpose Compostables are also plant based, and do not include toxic petroleum offering a safer and healthier choice to single use plastics.
Additionally, Repurpose Compostables are a fantastic eco-friendly choice since they are compostable, manufactured using less natural resources, and don't waste unnecessary paper due to the innovative technology. I think Repurpose Compostables are ideal for anyone committed to making a step in the green direction. Repurpose Compostables are available at major retailers like Bed, Bath and Beyond as well as Amazon.com. 
The insulated hot cups retail for about $6.99 for a pack of twelve hot cups with lids. Get them on Amazon here.
More Eco-Friendly Ideas from Momtrends
Pin it!
Use Pinterest to save your favorite ideas from Momtrends. Be sure to follow Momtrends here.
Momtrends was not compensated for this post.