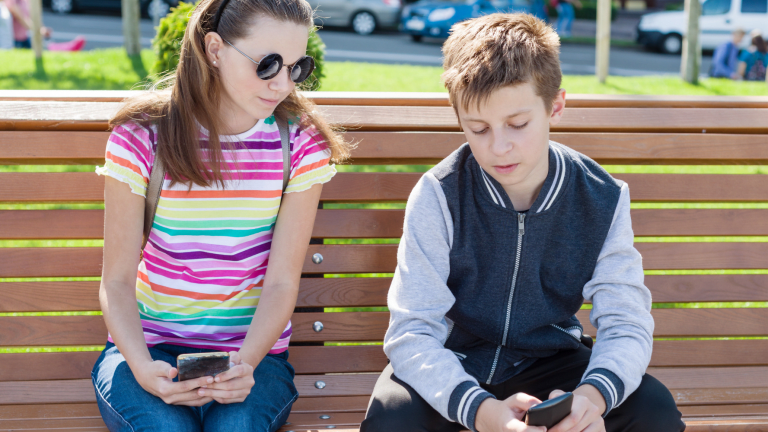 Removing the Likes and Reducing the Pressure on Instagram
When my Insta-happy sister takes footage of the kids on her phone, they'll ham it up knowing she wants them to be funny or silly or sassy. And when I take out my phone for a mommy-and-me selfie sesh, they immediately ask for me to add the puppy and kitten filters. (And I have to say they make super sweet bunnies!)
Crazier yet, my four year old will break out into YouTube star vernacular in the middle of a normal activity. We'll be baking a cake or doing a craft or playing with toys, and she'll say, "give a thumbs up and leave a comment. And don't forget to subscribe to my channel. Byeee." 
I'll admit I've often chuckled at their social media savvy; but when I really pause to think about it, it's more troubling than adorable. They're acutely aware that there is a greater audience out there watching their every "cute" move. They want to entertain, to impress, to be liked. And whether or not they realize it, they feel pressure to perform.
Heck, I'm 37 and I feel it. We talk a lot about how Instagram influencers can project an unrealistic portrayal of motherhood; and while I know that most of the amazing photos of gorgeous moms and their cooperative kids are staged (and fueled by bribery), I can't help but sometimes feel my own inadequacies. Am I failure because my kids won't dotingly stare into my eyes on the beach at sunset? But I can reel myself in from these deflating moments of social media envy--because, well, I'm an adult with confidence and bigger fish to fry/ babies to rear. 
But kids and their perceptions are a whole different ballgame. There was no Twitter or Facebook or Instagram when I was a child. There were no iPhones. The instant gratification of a Polaroid printing was pretty much the only high you could get from impromptu snapping and modeling. But, nowadays, babies learn to swipe iPhones before they can say a full sentence. It's an innate--a gift and a curse. And for better or worse, social media comes with the territory. 
At 7, 4, and 7 months, my kids, of course, do't have their own social media accounts, but they often ask to see mine--and I love going through my Instagram feed with them; I've often referred to it as my digital scrapbook. It's a way for me to share memories with them. It's when they get caught up on the likes and comments that I begin to cringe. They're too young--why should they care?
If I'm concerned about the impact of this "like" mentality on my little ones, I can't begin to imagine what it must be like to be a tween or teen on social media. Adolescence is an awkward and uncomfortable stage for everyone, but then to open yourself up to further scrutiny, peer pressure and cyber-bullying on Instagram--it sounds downright depressing and potentially all consuming. 
It's with this in mind that Instagram's CEO Adam Mosseri announced late last week that the platform will begin hiding the "likes" counter that appears underneath photos or videos for some US users, after testing the change internationally over the last few months. According to Mosseri, the move is a way to help young people, many of whom experience bullying and a sense of unnecessary competition because of the likes feature.

"The idea is to try and depressurize Instagram, make it less of a competition," Mosseri said. "We will make decisions that hurt the business if they are good for people's well-being and health because it has to be good for the business in the long-run."

Children and Screens: Institute of Digital Media and Child Development has been calling for Instagram to make this change permanent across its platform, with the research indicating that social comparison on social media platforms can be harmful for some users, affecting self-esteem, mood, and even leading to anxiety and depression. But according to founder Dr. Hurst-Della Pietra, this change doesn't go far enough. "They're still going to see their own likes," she explains. "People are very driven by rewards so they're still going to be competing for those likes. It's not going to fully solve the problem."   
That said, I believe this is a step in the right direction. But I, too, don't think the larger issue of cyber bullying and unrealistic comparison is by any means resolved. That's why it remains important for parents and guardians to strictly monitor social media activity and take a proactive approach. 
Talk to your kids about social media: Make this an ongoing conversation at the dinner table. Ask about what they're doing online--and approach it positively rather than skeptically. 
Lead by example: Don't live on your phone. Put it down, take a break, and be present. And when it comes to your social-media presence, strive for a reality over perfectionism. You can keep it pretty and keep it real at the same time. 
Offer Screen-Free Social Alternatives - Real social fun is way more enjoyable than sitting behind a computer or staring at a phone. Encourage your tweens and teen to do things IRL. "Doing it for the Insta" is overrated--do it for the joy and memories.
Check out expert tips on avoiding the negativity of social media HERE.
Want more from Momtrends?
1. Instagram Help for Parents of Teens
This is not a sponsored post.