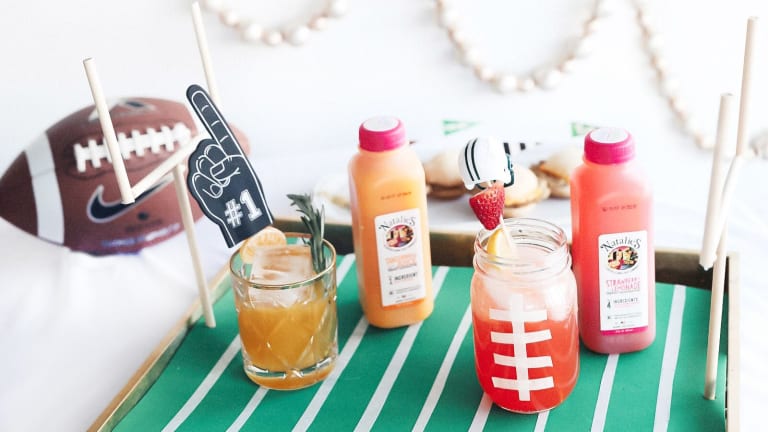 Refreshing Super-Bowl Drink Recipes
Celebrate the Super Bowl with two unexpected and totally refreshing drinks to serve at your fun football-game affair.
Let the Super Bowl countdown (and content!) begin! This next week, we'll be sharing lots of recipes, roundups, ideas, and inspiration... and we're kicking off (get it?) the celebration with two unexpected and totally refreshing drinks to serve at your fun football-game affair.
Refreshing Super-Bowl Drink Recipes
Now and again, I like the occasional beer, but I've never been a big brew drinker... and many of my girlfriends aren't either--so I like to have alternatives when watching the big game as a group. Wine is always on hand, but can cause early on-set sleepiness during a long game. So I prefer something that offers a bit more pep, pizazz and zip. 
Of course, being eight months pregnant limits my libation options--so I'll be sticking to a mocktail come SB Sunday. Still, I'm excited to try something new and flavorful. (Can't eat nachos and wings and dips without a cold and delish drink.) Here are two fabulous options one with booze and one without.
Sparkling Strawberry Lemonade Mocktail:
This sweet and tangy drink is a delicious beverage and can even be batched into a punch bowl.
Ingredients
Strawberry Lemonade (we like Natalie's)
Sparkling Water
Strawberry slices
Lemon slices
Directions
Pour equal parts Strawberry Lemonade & sparkling water.
Garnish with strawberry and lemon slices.
Tangerine Rosemary Old-Fashioned:
This grown up drink is refreshing and even give you a boost of vitamin C. It goes great with buffalo wings and spicy foods like nachos.
Ingredients
1.5 oz. whiskey
Angostura bitters, to taste
1 tsp. honey
1 oz. tangerine juice
Ice
Sprig of rosemary
Tangerine slices, for garnish
Directions
Combine all ingredients.
Garnish with Tangerine slices & sprig of rosemary.
I hope your team wins. Enjoy these drinks and the commercials!
MORE SUPER BOWL IDEAS FROM MOMTRENDS
PIN IT!
Save your favorite recipes and ideas from our The Big Game pinterest board here.
This is not a sponsored post.