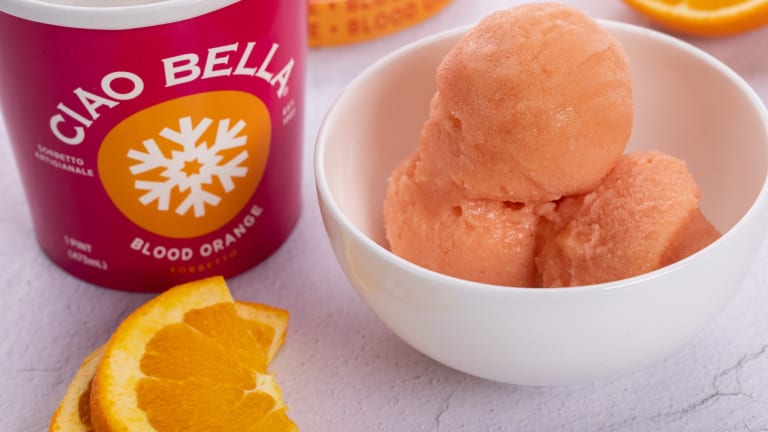 Refreshing Summer Wine Slushie with Sorbet
Get ready to whip up a refreshing cocktail treat with two simple and sweet ingredients.
Happy weekend! The wine slushies trend from this summer had me thinking me more about easy ways to make delicious frozen boozy treats. And this week's idea is just as simple. Two ingredients. Endless flavor combinations. And while it's ridiculously easy, it's also ridiculously chic making it the perfect finale for your next dinner party. Get ready to whip up a refreshing treat with two simple ingredients.
Related: Aperol spritz recipe
For this recipe, I'm using Ciao Bella Sorbetto - there are SO many yummy flavors to choose from, but I'm partial to Wild Italian Strawberry Limonata, Alphonoso Mango and Pacific Northwest Raspberry. And the Sicilian Limone. And the Marion Blackberry Cabernet. Luckily, I have a big freezer.
Refreshing Summer Wine Slushie with Sorbet
One of my favorite things about Ciao Bella is the short list of ingredients you'll find on their sorbets - and that you can pronounce them all! Blackberry puree, cane sugar, water, cabernet wine reduction, lemon juice, pectin. It's how my imaginary Italian grandmother would have made sorbet. This also lets the flavor truly shine in each sorbet which means I only need a small scoop to feel decadently satisfied. On to tonight's drink....
Refreshing Summer Wine Slushie with Sorbet Ingredients
Ciao Bella Sorbetto - flavor of your choice
Sparkling wine - Prosecco, Champagne or whatever sparkling wine you have on hand.
Refreshing Summer Wine Slushie with Sorbet Directions
Scoop your favorite sorbet flavor into a dessert dish, margarita glass or martini glass.
Top with your favorite sparkly wine.
Garnish with a mint leaf, lemon zest or candied orange peel
Is it a drink? Is it a dessert? With this cocktail, you won't have to choose. 
MORE FUN SIPPING IDEAS FROM MOMTRENDS
PIN IT!
Be sure to follow our Cocktail Chic board on Pinterest and save your favorite Momtends articles.