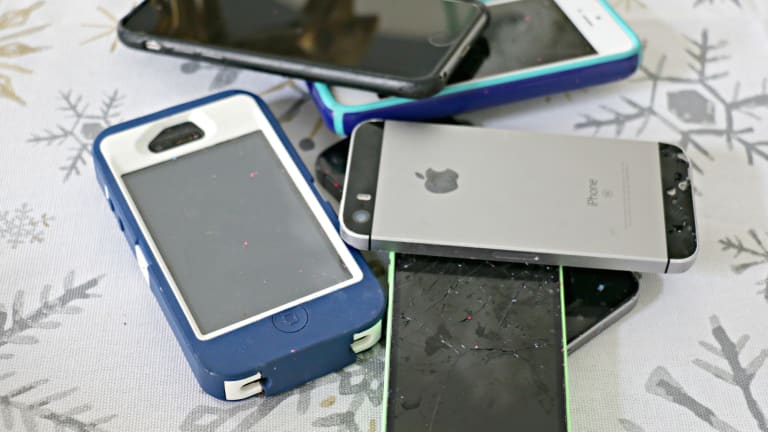 Recycle and Give Back by #GivingTWOgether
Join T-Mobile by helping feed the needy and supporting disaster relief...
Is there any time of year that's quite as magical as the holiday season? There is certainly something in the air that inspires good will...Don't you think? My favorite part of our holiday traditions has always been giving back and I love to include my children when we look for ways to support the community. While I cherish all the memories we make baking cookies, looking at Christmas lights and opening all those special gifts we so carefully select for each other, it's just as important to me that we count our blessings and do for others too. If I can inspire them to take part in acts of kindness  on their own, that's the kind of legacy I would be honored to leave behind...
PUT OLD PHONES TO GOOD USE
So, I'm thrilled to be able to share with you a new way that we found to give back together. Thanks to T-Mobile and their #GivingTWOTogether phone drive program, we can recycle AND help worthy causes at the same time. I'd call that a win win situation. I know I'm not the only mama with a drawer full of old phones just collecting dust. I mean what was I going to do with all these? Bwah! Luckily, T-Mobile makes it possible for me, and you, to say goodbye to that extra clutter and turn in your old phones to do good this holiday season. 
Did you know that more than 135 million cell phones are thrown away each year? Even though it's fairly easy to replace a cracked phone screen, for instance, I'm ashamed to say that I probably would have just tossed our phones rather than figure out an alternative use for them. Thank goodness for T-Mobile! Just one unused phone of mine could help get 600 meals to people who need them or buy vital equipment for the member of a disaster relief strike team. You see, once upon a time we gave some of these devices to the kids to play with when we upgraded our phones, but once they were broken, we threw them in our junk drawer and forgot about them. What a waste! If you want to see how much of a waste I'm talking about, go HERE and try out this handy dandy calculator that shows you how much your old phone could be worth.
HOW YOU CAN HELP
From now through December 31st, you too can turn in any old phone or tablet at your local T-Mobile store and they will match the recycled value of your device, apart from the costs, and donate it to Feeding America and Team Rubicon. AND they're pledging a minimum of $1,000,000 to be split evenly between the two charities. Would you believe that's enough to buy at least 5,000,000 meals AND deploy 5,000 veterans to serve communities affected by disasters? 
In case you aren't familiar with these charities, Feeding America is the largest hunger-relief organization in the country. They have a network of 200 feed banks and 60,000 food banks that they partner with nationwide to help provide food to more than 46 million people. Team Rubicon, on the other hand, unites veterans and their special skills with emergency response teams to get them deployed quickly when there's a disaster. How are those for worthy causes?! I knew you'd want to help too! 
Head HERE to find out more details! Let's make this the season of giving shall we?! And why not take your kiddos along for the ride?! Have them turn in their own old phones or tablets and they'll really feel the impact of doing good!
* It's important to note that ANYONE can donate to this program. You don't have to have a T-Mobile plan, but now is as good a time as any to find out why the Un-carrier could be the service provider you need! Not only are they running the incredible #GivingTWOgether campaign, but that's after they just finished up their #GivingTuesday promotion where they helped employees, customers and fans give away 2 million dollars to charity...AND as the official wireless sponsor of the MLB, they helped raise hurricane recovery awareness and funds which resulted in a donation of $2.78 million to hurricane relief. I, for one, love supporting companies that do good with their brand's powerful platform! Don't you?!
This post is sponsored by T-Mobile. All opinions expressed are my own.