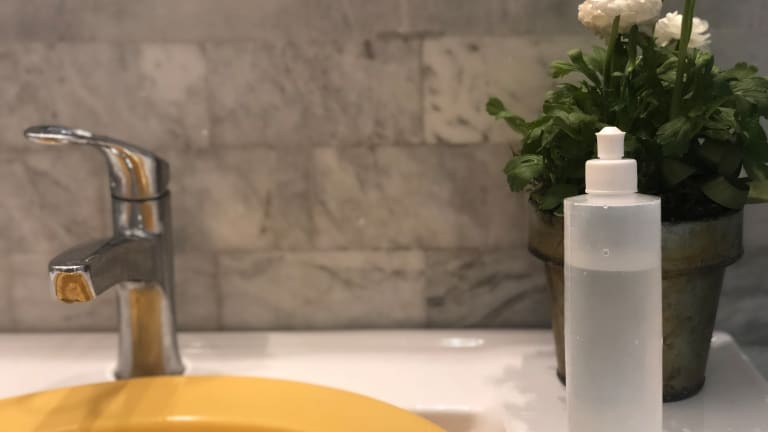 Publish date:
Real Talk: Postpartum-Recovery Tips
We're Not Going to Sugar Coat It. Giving birth can be rough. Sharing five things first-time mamas need to know about postpartum recovery.
We're Not Going to Sugar Coat It. Giving birth can be rough. Sharing five things first-time mamas need to know about postpartum recovery.
Child birth--it's no walk in the park... And the recovery? Well, I wouldn't quite call that a picnic either. 
I've now endured three vaginal births, and while they've all been very different experiences, they all have one thing in common: squeezing out a babe doesn't not hurt. 
Related: Pregnancy skincare favorites
I'm not going to lie--labor is called labor for a reason. It's intensely physical and incredibly taxing. But once you're holding that bundle in your arms, you'll know that every pang and pain was well worth it. Believe me--if that wasn't true, I wouldn't have happily signed up to do it again and again.
Still, immediately after delivery, you might oscillate between elation and trepidation. The thought of peeing--let alone going #2--might give you massive anxiety. But, fear not, it will get better. 
5 Postpartum Tips to Help You Heal
Want to feel prepared? I'm sharing five things first-time preggos need to know about post-partum recovery. Stock up on the essentials and pull up your granny panties--it's time for some "real talk."
Use Your Bottle: 
The water spray bottle your recovery nurse hands you will become your best friend. Fill it with lukewarm to coolish water to use during bathroom trips. You may not be able to wipe if you are sore or have stitches--and a little spray of water will help alleviate any immediate burning and get you clean. 

Fun Ways to Discover Venice Italy with Your Family
Greetings from Italy wear the gelato is rich, the clothes divine and the scenery is inspiring. Now that I've been to this fine city in the north of Italy, twice, I've amassed a list of favorites to share. These are some fun ways to discover Venice, Italy with your family. ...read more
Here's What No One Tells You About Olive Oil
produce is at its absolute PEAK right now. It's the time to prepare fresh veggies and fruit with ease and simplicity. When it comes to cooking, the farmer's market is my muse. As I prepare some of my summer harvest favorites, I'm sharing a little secret, what you put ON the ...read more
Take Over-the-Counter Medicine 
Follow the directions of your doctor, nurse, or medical professional, but don't be afraid to take OTC medicine if they say it's fair game. 
As a nursing mom, I didn't love the idea of taking medication. But, once my nurse gave me the green light and assured me it was safe, I went for it. Managing the pain with Tylenol or Motrin (or whatever your MD recommends) will help you be better equipped to handle everything those early days of new mommyhood will throw your way. 
Also consider taking a stool softener if deemed safe. It'll make that first postpartum poop a little less scary. (Yep, I went there!)
Snag All the Hospital Supplies
Pack up and take all the supplies in your hospital room and bathroom--and ask your nurse for more! I'm talking maxi pads, disposable underwear, and incontinence pads. (Yes, you're going to need all of these items!) You might bleed heavily for the first few days, and will need to change frequently. You can buy disposable underwear from the drugstore, but it's almost impossible to find the type they have in the hospital--thin and stretchy, made of a comfy netting material. 
Take Regular Sitz Baths
Soak, soak, soak in a lukewarm sitz bath. If you're not familiar, you can fill this plastic "container" with water, and let it rest on top of you toilet seat. Taking a five or 10 minute "soak" once a day for the first few couple of weeks will help immensely in the healing process.
Accept All the Help
As women, we're used to doing it all. But now is not the time to be a multitasking mama. Accept that it will take time to get back to your regular pace, and say yes to all the help. Let others cook for you, clean the house, and change the baby. You need to put up your feet and rest when you can. The more you take it easy, the quicker you will heal and the faster you'll be able to resume your superhero status--but with a promotion... You got this, Super Mom!
MORE PREGNANCY HELP FROM MOMTRENDS
PIN IT!
Use Pinterest to save your favorite parenting and pregnancy resources. And be sure to follow our Pregnancy-101 board here.
This is not a sponsored. The content in this post is based on the author's experience and personal opinion. It is not medical advice. Consult your doctor for expert advice.