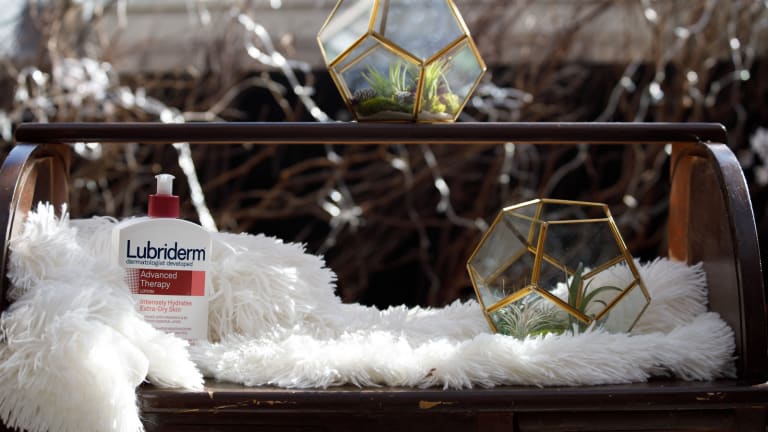 Real Solutions for Dry Winter Skin
Staying Cozy with Lubriderm Advanced Therapy Lotion
Winter gets a bad rap. Each year families are bombarded with images of long-suffering families stuck indoors. The media have it all wrong. Winter isn't something to be endured or to escape, it's something to embrace. It's a cozy time to bring families together and to take a fresh look at the outdoors. 
This month we teamed up with Lubriderm to create a winter wonderland event with some of our favorite NYC influencers. The setting was the dreamy SERRA by Birreria, the pop-up restaurant on the roof of Eataly NYC Flatiron. The setting was the ideal place to talk about the upside of winter - the beauty of the season and how it brings families together.
Momtrends Shares Winter Skincare Tips
At our wintery themed brunch I gathered some of my blogging friends to talk about my love of winter. Since we like to be creative, we all fashioned some cool winter-themed terrariums as an "ice breaker" of sorts. We noshed on great comfort food and even created our own winter masterpieces at the DIY cocoa bar, but mostly we talked about how we create the best experiences for our families. I'm going to share with you, what I shared with my blogging friends.
Lubriderm Family Skincare Solution
My family loves to ski and play in the snow. I look at is as part of my mission of Momtrends to help spread the word that you can still play outside all winter long; you just need the right gear. 
Just like you need the right ski clothes and gear to make sure your kids have fun on the slopes, you need the right skincare products to make sure your family is protected.
I'm not hiding that fact that dropping temps and whipping winds can also dry out skin. When we travel for our ski holidays, we always pack Lubriderm in our ski bags. Once we hop out of the shower or after a soak in the hot tub, we put on our best base layer...Lubriderm. It's a creamy, rich lotion that can stand up to whatever winter weather we take on.
It's great to know that I can rely on one skincare product for the entire family. My girls are 11 and 13 and they can get all the benefits that I do from Lubriderm. I stock our bathroom with this one-size-fits-all skin defense. It works especially well for our daughter with mild eczema. It's extremely important to keep her skin well hydrated in the winter months or she's uncomfortably itchy. Lubriderm is clinically shown to provide relief for extra dry skin, making it healthier-looking and more resilient in just one week.
It moisturizes skin for 24 hours, so use it once a day for protection against dry skin all winter long. Lubriderm Advanced Therapy Lotion, a winter solution that works for everybody is available at Walmart for $6.97. I hope you'll look at winter with an open mind this year. It really is a magical season once you know how to take care of your family.
Pin it!
Use pinterest to save your favorite beauty tips.
This Real Solutions for Dry Winter Skin feature is not sponsored.