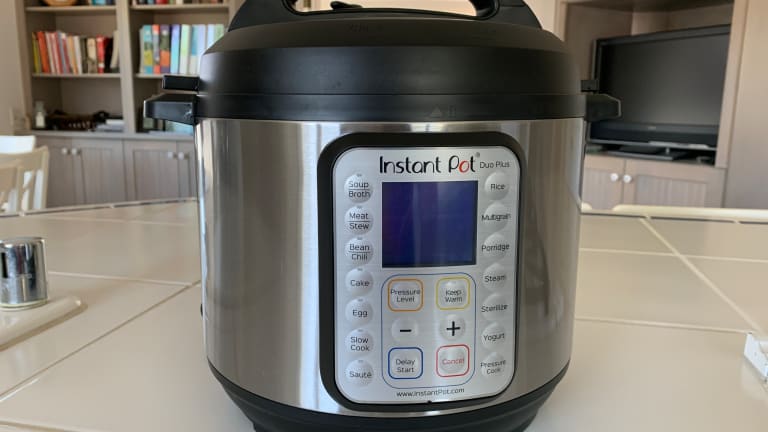 Quick Instant Pot Dinner Recipes for Back-to-School
Have you jumped on the Instant Pot train? With its promise to cook dinner faster, easier and better, I thought it might just be the answer to all my back-to-school dinner woes.
I admit that I was late to the Instant Pot game, but as the first day of school loomed closer and closer, I knew that I needed something new for my back-to-school dinner game. Luckily, Amazon Prime Day came and offered up an Instant Pot deal I couldn't resist. I've spent the last month trying out quick Instant Pot dinner recipes and am ready to share my favorites. Have a quick Instant Pot dinner recipe you love? Leave it in the comments below!
Quick Instant Pot Dinner Recipes
Fun fact: I've found that dinnertime can change quite often when you have kids. At any point during child rearing, any of the following may throw your "we all have dinner around the table together" plan for a loop: nap schedules, early bedtimes, parent work schedules, homework, commute, sports/dance/activity practice, parent-decides-to-pick-back-up-a-hobby practice, etc.
I've found that despite a desire to all sit down together for dinner and despite meal planning and shopping in advance, at different parenting phases, there may be times that you need to keep dinner warm an extra 45 minutes. Or have dinner hot for one kid and parent at 5:30pm and other kids and parents at 7:45pm. Such is (parenting) life.
The Instant Pot--if you will put in the time to learn how it works and the recipes that make it shine--can indeed help with the dinnertime parenting dilemma, allowing you to cook healthy, homemade food that is quick and hot at a variety of time ranges. Here are three quick Instant Pot dinner recipes that I tried and deemed both kid and school-night approved.
Instant Pot Lemon Garlic Chicken
I'm a sucker for recipes like this: chicken thighs (which are guaranteed to stay moist) + lemons (always on my tree outside) + garlic (always a good idea). I found this Instant Pot Lemon Garlic Chicken recipe on Life Made Keto and knew it would be one of the first ones I tried. It was easy. It was delicious. Enough said.
Instant Pot Spaghetti
I know we all have different levels of cooking, but for me spaghetti is already filed under pretty easy. BUT - spaghetti in the Instant Pot means just one dish to clean and less than half the hands-on time that it would take me on the stove. Plus this Instant Pot method lets the elements meld together in a new, delicious way. Check out the recipe I used on TheKitchn.com.
Instant Pot Pork Tenderloin Teriyaki
This Instant Pot Pork Tenderloin Teriyaki from Or Whatever You Do was another winner. So flavorful and juicy! It is literally two ingredients - pork tenderloin (which I get at Trader Joe's for $5-$7 each) and a bottle of teriyaki sauce. I decided to get fancy and make my own teriyaki since I had all the ingredients on hand; but with two ingredients, this is a super easy, family friendly, school-night dinner winner. Add some white rice, steamed broccoli and a cucumber salad and dinner is done!
What are you favorite Instant Pot dinner recipes?
Want more from Momtrends?
1. Author Spotlight: Ho to Instant Pot by Daniel Shumski
2. Easy & Quick Meals to Make With Store-Bought Rotisserie Chicken
3. Find the Zen in Your Slow Cooking 
This is not a sponsored post