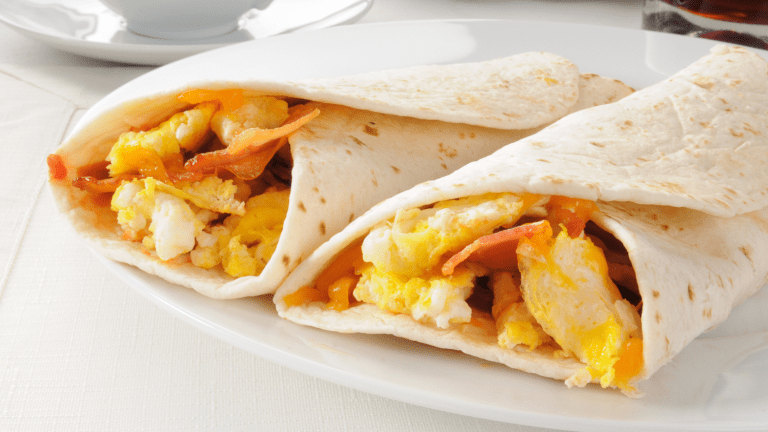 Quick and Easy Breakfast Burrito
This quick and easy breakfast recipe uses mango salsa to make it special.
Fresh fruit makes every recipe taste better. This quick and easy breakfast recipe was inspired by my recent trip with al fresco all natural to go glamping in Ithaca New York. Al fresco all natural gathered a team of bloggers to swap recipes and think out of the box about sausage. 
Al fresco all natural had us all stay at the Firelight Camp in Ithaca. The grounds were amazing. Right on hiking trails and they had gorgeous amenities. Glamping is all about luxury. We had huge beds with exquisite linens. The bathrooms were a short stroll across the grounds. And then the cocktails started at 6pm and dinner was divine!
But the trip wasn't just about playing. I teamed up with Pamela from MomDoesReviews.com to dream up some fun creations for your meals.
First we were tasked with shopping all the yummy fresh fruit and veggies on display. Then we got to work. We had 45 minutes to shop and create a breakfast. Here's what we did!
Mango Salsa Recipe
Ingredients
1 ripe mango peeked and cut into cubes
1 garlic clove minced
1/2 small jalapeno diced
1/4 shallot minced
2 tablespoons chopped cilantro
Pinch of salt
1/2 lemon juice
Directions: Mix together in a bowl. Let flavors mingle while you prep eggs.
Breakfast Burrito Recipe
Ingredients
4 eggs
1/4 cup of milk
salt and pepper
1 package breakfast sausage
small tortillas
1/2 cup cheddar cheese
Directions: 
Whisk eggs, milk and salt and pepper together until frothy (makes your eggs fluffier)
Cut apple sausage into small pieces and sauté in cast iron skillet until browned
Add the egg mixture, cook until almost done
Add 1/2 cup of cheddar
Warm tortillas on grill directly or in a cast iron pan fill tortillas with egg and sausage mixture and roll into burrito shape.
This is a fun way to start the back to school year. It's making the most of summer fruits and gives the kids a healthy boost of protein with the eggs and sausage. The mango salsa can also be made with peaches, plums or nectarines. Get creative!
Al fresco all natural sausage is a great option because it's made with lean, skinless chicken meat. It has 70% less fat than pork sausage and is gluten free! You can see a ton of great recipes on www.alfrescoallnatural.com/recipes.
This is not a sponsored post. Travel to Ithaca was paid for.