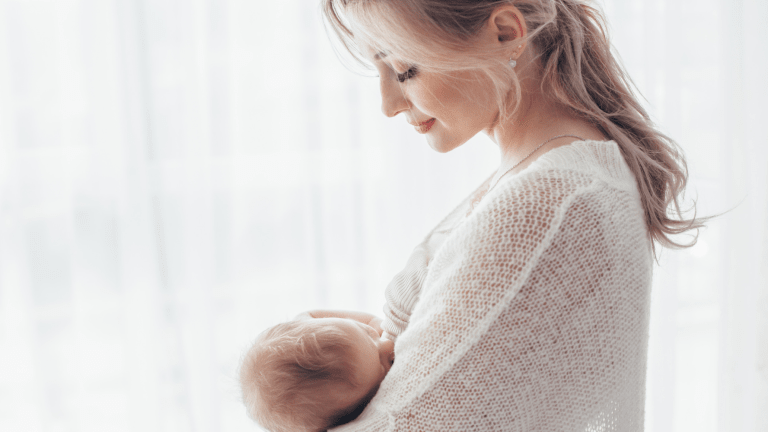 Postpartum Support: 6 Ways to Care for Yourself
Six self-care postpartum tips for new moms to help care for you and your family.
New moms need all the support they can get. Making the transition to first-time motherhood or welcoming a new little one into your life can be overwhelming and all consuming... and then there are those brutal hormones to contend with. 
I know from my own personal experience that the early weeks and months postpartum can be daunting, isolating, and confounding. You want to do the best to take care of yourself and your growing family, but, for many, the demons can be real. 
Postnatal depression and postpartum support have been in the news a lot lately but there aren't that many options for new parents (moms mostly) to access support in a relaxed and social way. 
That's why we were happy to learn about the Parent Collective, a company striving to make help more readily available to new parents. The Parent Collective's founder, Jessica M. Hill, shared six self-care postpartum tips for new moms.
Postpartum Support: 6 Ways to Care for Yourself
Slow Down. Respect that this is a time for healing. Your body has just been and is going through so much, from birth to making milk, and you simply cannot resume your normal pace in those early weeks home with baby. Give yourself permission to let the laundry go or leave the house a mess and simply be with your baby. Better yet, assign those tasks to a willing helper.
It's all about the baby. A wise doula once told us your baby is completely unaware that you don't know what you are doing. They need to be fed, sleep, kept clean, and held. That is it.
Prepare in advance. Make and freeze meals, load up online grocery delivery orders with easy to prepare foods, staples, and grab and go, protein-rich snacks (Some good ones are nuts, cheese sticks, veggies and hummus, rolled up cold cuts, etc). Also arrange to have help either from family or through hiring. Postpartum doulas are an amazing support for new moms and surprisingly affordable.
Trust your instinct. You are connected to this baby in a way no one else is. If something feels right but a well-meaning passerby tells you otherwise, trust your instinct not their advice… unless it's your doctor.
Be kind to yourself. You are new to this and you will only be able to do so much. Put away the guilt about what you feel you should be doing to achieve super-mom status and just focus on loving your baby and keeping yourself in a positive place. Your baby is going to be more settled if you are content. It's a virtuous cycle!
Lean on your friends. Your friends – whether they live near or far, exist in online communities or live in your neighborhood – will be a crucial support in these early weeks and months. They provide a sanity check on everything from illness, loneliness, marital problems, to the run of the mill baby drama. And if they live locally, they can also provide companionship during those sometimes endless and monotonous days with a newborn. Seek them out and make those connections. It will make life so much easier!
Postpartum Nutrition
Pay less attention to your calorie intake and a lot more attention to meeting your nutritional needs to help your body recover. The right balance of proteins, carbohydrates and fats – and the right food choices - is needed to supply the nutrients you need while keeping calories under control.
The goal is to pack as much nutrition as you can into healthy, easy to prepare meals that include lean proteins, dairy products, healthy fruits and vegetables and whole grains.

Keep fresh, whole fruits around for snacking.
Lean, protein-rich foods are essential to keep you from getting hungry in between meals – which is so critical when trying to curb intake. Fish, poultry, lean meats, low-fat dairy products, and vegetable protein sources, like soy products, provide the most nutrition with the fewest calories. Fish provides healthy omega-3 fatty acids and is quick to prepare, and canned tuna and salmon is convenient to have on hand. Fish, poultry and soy are also great sources of Vitamin B6, which helps regulate your hormonal activity.*
Some of the most important minerals for new moms are calcium, and iron-- particularly if you're nursing your baby. The fat you stored away during pregnancy helps provide the energy you need to produce breastmilk – to the tune of about 500 calories a day. Make sure to keep those extra calories as nutritious as possible, and not use it as an excuse to binge on sugar and fats. Instead, get your calcium from milk, yogurt or cottage cheese, and look to meats, beans, leafy greens and fortified cereals to provide iron. To meet your needs for both, try a bowl of fortified cereal with milk or some beans heated with salsa and topped with low-fat cheese as a snack.
Hydrate, Hydrate, Hydrate: Dehydration can lead to fatigue, so adequate fluids are essential. Whenever you sit down to feed your baby, make a point to have a glass of water or a cup of herbal tea. If you're nursing your baby, avoid caffeine; if you're bottle-feeding, curb your caffeine intake by afternoon so as not to disrupt your sleep at night.
Be Kind to Yourself

Pregnancy is not only a significant change for your body; your mind needs care too. According to a study in Nature Neuroscience Journal, pregnancy changes a woman's brain structure for at least two years after giving birth. Although this report is not conclusive and the science in this area is developing, it is still worth remembering that a new mom's brain optimizes its resources and rewires itself to help cater to her infant.
Fatigue and lack of sleep make it hard to think about putting together healthy meals and getting adequate nutrition, but that is the foundation of physical and mental health. Stay positive and focus on what's important. Your health and the health of your baby come first.
As time goes by and your baby starts sleeping for longer stretches, you'll gradually have more time to prepare meals and find time to exercise, at which point you'll begin to shed the baby weight. Focus on your achievements – especially the biggest one of all…You're a mom!
More New Mom Support from Momtreds
Shopping-for-a-nursing-bra --our favorites for feeding and supporting mom
Self Care for moms--more ideas on caring for you
Best Diaper Bags-- carry your gear with style.
PIN IT!
Be sure to save your favorite gear for baby on Pinterest. Please follow our Mom Tips and Wisdom board here.
This is not a sponsored post. Parent Collective has launched a postpartum support series in CT, NY and NJ. This offering reinforces the 3 goals of the Parent Collective which are to provide: a judgment-free space to learn about how to deliver and care for your baby, a forum for discussion around topics of concern to expectant and new parents, and a social network through participation, gathering playmates for the little ones on the way and of course, that crucial support system that parents so need.