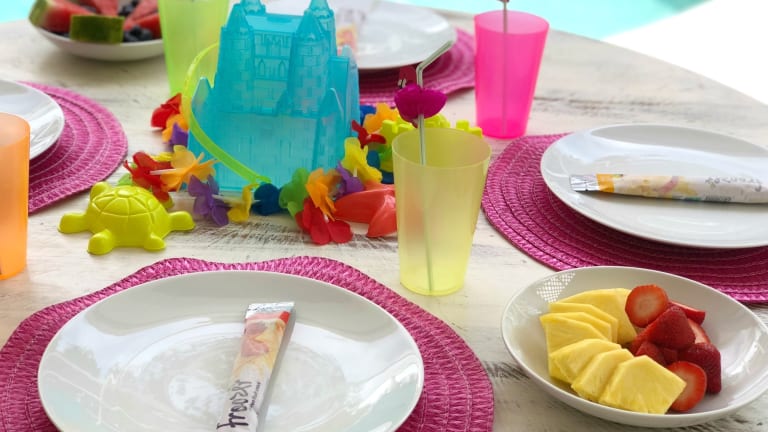 Pool Party Worthy Frozen Fruit Treats
Could your children use some more fruit in their lives? That's a big 10-4 over here. What if I told you, that you could serve up 100% fruit, literally nothing else added, in frozen pop form? You're all in right? I knew you would be! I was ready to make my new favorite treat a regular in my house from the very first bite. I just had to convince everyone else to give them a whirl. And that didn't turn out to be terribly difficult. You see, when I came across the oh so tasty 100% fresh-frozen fruits from Froozer, I knew just how to introduce them to my family. I've always found that the best way to get my kids to try something new is to get them excited about it. That being said, they go nuts for anything that involves pool time. And these all fruit goodies totally make for pool party worthy frozen fruit treats!
Frozen Fruit Treats to Try Now
So, what better way to get my fam pumped about my new go-to healthy snack than to serve it poolside? And that is just what I did recently. I threw together a quick, fruity colored tablescape and served up Froozer fresh-frozen fruits along with some of their favorite fresh fruit. All the bright, cheerful colors made for such a fun break from their swimming. And being that they'd worked up a bit of an appetite in the pool, they were more than willing to nosh on whatever I put in front of them. The "party" atmosphere, due to the tablescape didn't hurt either. Thanks to their willingness to try Froozer, they now have a coveted new snack that I can feel great about giving them! I mean these pops are made from freshly harvested fruit that's been picked at their prime. They're than flash frozen and mixed together in fruity, delicious combos that you simply have to try! And, like I said, there is NOTHING else in the. It's ALL fruit!
Fruity Pool Party Tablescape
In case you too wanted to put together a fun, fruity pool party tablescape for your family, I thought I would share the details on mine. I simply hit up a couple bargain stores and pilfered the dollar sections for things like fun straws, festive placemats, beach toys that I could use for decor and even simple fabric leis. Then I pulled out my everyday white dishes and, voila, I had a fresh, fruity tablescape that I was able to throw on the table in mere minutes! As I'm sure you can tell, my daughter was a BIG fan of this "party!" Now I just have to convince here that she doesn't get a special setup every time she wants to enjoy some Froozer 100% fresh-frozen fruits. Bwah!
To stay connected with Froozer, head over to their website, Facebook, Twitter, Instagram and Pinterest!
And for more ways to beat the heat this summer, check out how we're turning our backyard into shady play area!
This post is sponsored by Froozer.