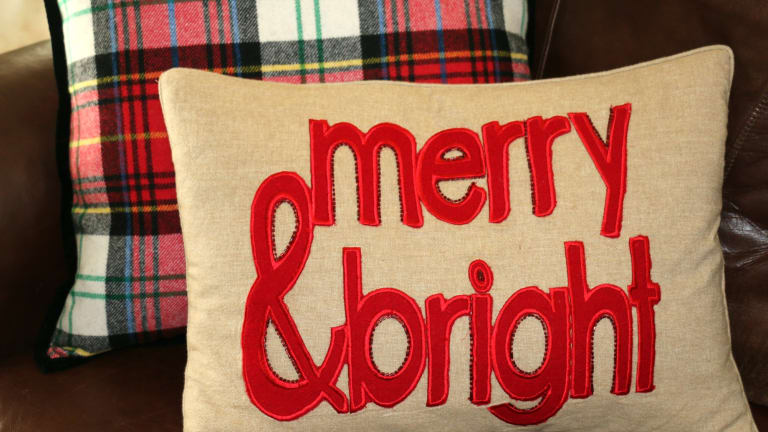 Plaid Finds for the Holidays
Pretty plaid home and style picks...
If I had to pick one print to get me through the holidays, it would definitely be plaid. Frankly, I love rockin' various forms of plaid all year 'round, but I get especially excited about it this time of year. There is something so festive about a classic Tartan for instance...Don't you think? In fact, I like to infuse plaid into all aspects of my life. That includes my home decor and my family's wardrobe. 'Tis the season to be jolly after all and styling plaid pieces definitely makes me jolly. So, just in case you too are a fellow plaid aficionado, I thought I would share a few of my favorite plaid finds for the holidays!
Let's talk holiday decorations first. Plaid prints are right in line with the rustic farmhouse vibe my holiday decor has taken on, so you'll find plaid pretties in most of the rooms in my house. Plaid pillows are jazzing up my family room and a plaid throw is adding a festive flair to my living room chair. Pillows are throws a great way to add a holiday feel to your space and can easily be switched out with each season! And the right throw blanket can even double as a wrap. You can expect to see an outfit post featuring mine very soon! Speaking of outfits...

My little lady is channeling a holiday vibe too in a fun look from Burt's Bees Baby. This two piece skater dress and leggings number features the blending of two of my go-to prints, plaid and buffalo checks. What a dream team! She's ready to face any holiday occasion in style AND comfort thanks to the 100% organic cotton. And to add a little glitz, her rose gold Step & Stride high tops are the perfect finishing touch. I love how easily they zip on and off and the cushy Ortholite insole allows her to race around without a thought to discomfort. These holiday worthy kicks set off her cranberry plaid leggings perfectly. I just wish this look came in my size. I'll have to settle for my blanket/wrap. Bwah!
So, there you have it...My favorite plaid finds for the holidays! Now it's time for you to add some more plaid to your life! You can never have too much. Well, that's how I play it anyway. Haha!
We were not paid for this post. It does contain affiliate links. Shopping them help us bring you this site!