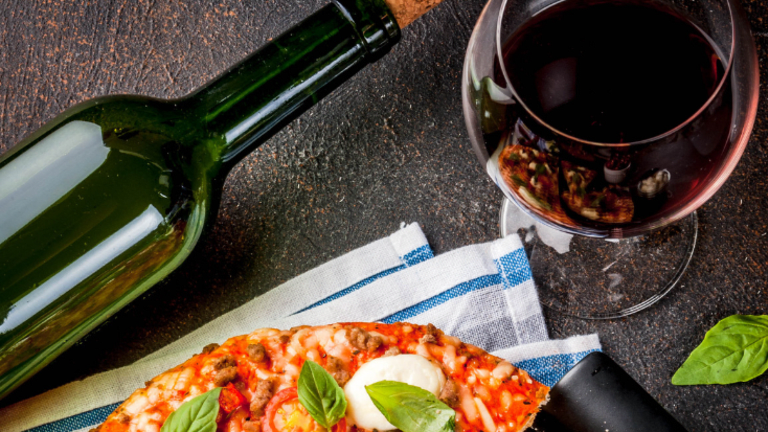 Pizza + Wine Pairings
New Year's Eve is gonna be lit. (Did I use that word right? Note to self: Stop trying to be cool in 2020.) 
Seriously though, I'm pretty pumped about my plans for the last night of the decade. I'm staying in, putting on my fave PJs, and throwing a little pizza party for my fave peeps. I'm hoping to be passed out in a cheese-induced slumber well before the clock strikes midnight--and with the help of a few glasses of wine, I'll surely be snuggled down and feelin' cozy.
Don't get me wrong; I'm not trying to snooze through the festivities. I would like to mark the occasion and make it special, but I also want to start out the year as a well rested mama. (Hashtag: goals.) 
I may be popping the bubbly quite a bit before the ball drops, but, I'll make sure it's a quality bottle, nevertheless! In fact, I'm going to put a twist on the usual pizza night and serve all our pies with pairing options for the adults (and heck maybe I'll put out a few fun kid-friendly bevvie options to make sure the littles don't feel left out). 
So what wines pair well with each pizza topping? Let's do a deep (dish!) dive and pick your poison!  
Top 6 Pizza and Wine Pairings
Traditional Cheese Pizza: Pinot Noir is the people-pleaser red wine. It's widely liked and pairs well with just about anything--so it's a safe bet to serve your guests. With undertones of ripe red berries, black cherries, and earthy mushrooms, it's the ultimate complement to a good old-fashioned slice of cheese pizza.
Veggie Pizza: Buttery and oaky with a hint of vanilla, the richness of a Chardonnay balances the earthiness of your veggie-heavy pizza. Manga! 
Meat Pizza: Loading up your pie with meatballs and sausage? It'll come as no surprise to meat lovers that a nice full-bodied Cabernet Sauvignon will pair perfectly with your carnivorous creation. Dry and never too sweet, a Cab is made for a heartier meal--so unbutton your jeans and enjoy!
Pepperoni Pizza: A wine with weight is the right choice for your charcuterie-esque pizza. A Zinfandel with its initial fruity flavor and underlying smokiness is a great choice.
Pineapple and Ham Pizza: Pinot Grigio has a lemony-fresh acidic zest to it that you'll love. It offers a a refreshing zip-and-sip of flavor to balance the sweetness of pineapples and the saltiness of ham on your Hawaiian-inspired pizza.
Dessert Pizza: Serving up a sweet pie for dessert? Pop a dry Prosecco for the ideal ending to your pairing experience! Delish.
P.S. I found this handy Insta-graphic on my local pizza parlor's feed. The conclusions are similar--and it's a good visual cheat to help you remember when serving up pies and glasses.
Want more from Momtrends?
1. The Best Pizza Recipes--and a Few Cheesy Finds
This is not a sponsored post.