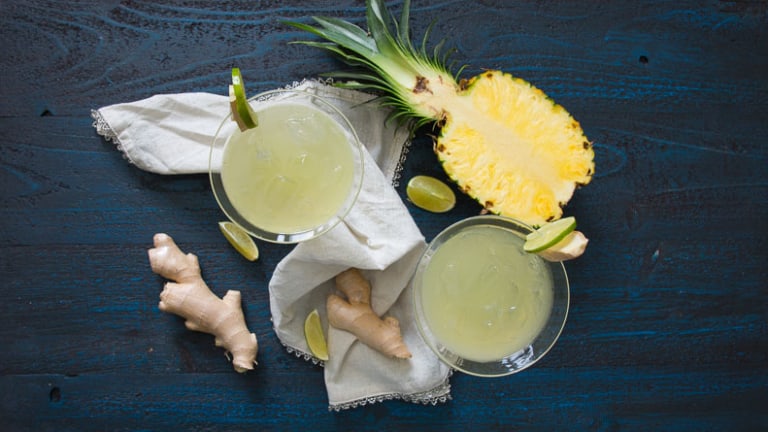 Pineapple Ginger Margarita
This sweet and zippy recipe is a twist on the classic Margarita cocktail is a great way to start a weekend.
We once again find ourselves in the awkward limbo between Summer and Fall. I crave the fall flavors of pumpkin, apple, cinnamon, ginger, and cloves. But, the reality is it is still 90 degrees outside.
Related: Whip up a strawberry dream Margarita
Why We Love the Pineapple Ginger Margarita
How do I get my seasonal fix with the heat?
Well, margaritas are also a terrific choice regardless of the time of year. To make this timeless classic a bit more seasonally appropriate, I added the spiciness of ginger to the mix.
A simple ginger syrup is all you need to elevate the cocktail to a superb Fall cocktail. TO balance the spicy flavor of the ginger I add a bit of pineapple juice for sweetness. Margaritas are already sour, so without something sweet sour and spicy are not the best pairing.
You can use a standard margarita mix and pineapple juice if you prefer. However, I find fresh juices really elevate a cocktail. Especially for a cookout or any get together where this is your signature cocktail.
Ready to give this Fall margarita a try?
Pineapple Ginger Margarita Ingredients
Ice
1.5 ounces Tequila
3/4 ounces Triple Sec
2 ounces Pineapple Juice
1 Tablespoon Ginger Syrup (see recipe below)
2 ounces Lime Juice
Ginger Syrup Ingredients:
1/4 cup water
1/4 cup sugar
1 Tablespoon Ginger, roughly chopped
Ginger Syrup Directions
Combine all ingredients and bring to a boil. 
Reduce to a simmer and cook for about 5 minutes. 
Remover from heat and let steep until cool. 
Strain and store in the refrigerator until you are ready to use.
Pineapple Ginger Margarita Directions
If you prefer, salt the rim of your cocktail glass. 
Add ice and set the glass aside. 
In a shaker combine the tequila, triple sec, pineapple juice, lime juice, and ginger syrup. 
Shake well and strain into your glass. 
Garnish with a slice of ginger and lime. Serve cold and enjoy immediately.
Happy Sipping!
MORE FAVORITE SUMMERY DRINKS
PIN IT!
Use Pinterest to save your favorite cocktail recipes. Be sure to follow our Drinks board here.