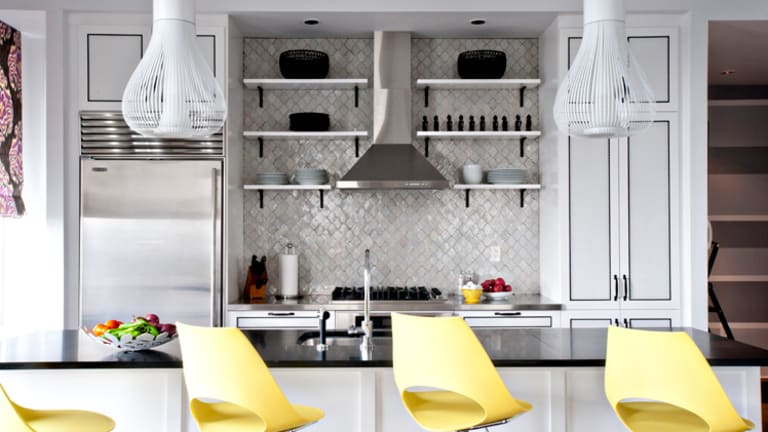 A Personal Homeownership Story
Renting vs. Owning Let's Talk About It #SpentOnRent
I'm incredibly proud of where I live and the home I've created for my family of four. My journey started back in 1998 when I bought my first condo. I was 27 and went from a renter to an owner. I might be a bit off on my numbers, but this was in Chicago and my first condo cost about $150,000. I thought I'd share a personal homeownership story to kick off the conversation.
My Personal Homeownership Story
I was lucky, when I graduated from Vanderbilt I didn't have any student loans. I landed a job right out of school (paying a whopping $28,500 a year) and started saving money right away. I maxed out my 401k contributions and then started putting money into a savings account and CDs. I scrimped, saved, ate a lot of tuna fish sandwiches and skipped things my friends when in on, like full summer shares at Dewy Beach Delaware. 
The good news is I became a homeowner at a young age. Two years after buying that first condo, I sold it for $275,00. Now, this is not a normal profit. I happened to get some lucky timing and was a buyer in a neighborhood that became "hot." 
When Ralph Lauren gave me a promotion, I moved to New York. Most of my wealth I'd created at this point was from 401K savings and real estate investments. I wanted to continue the trend. I rolled the profits from the 1st condo into a new condo on the Upper East Side of Manhattan. The purchase price was $325,000 for a 700 square foot condo (even in 2000 it seemed crazy). Just 3 years later, I sold that condo for $500,000.
I'm now on my 4th home and my 4th mortgage. I've arrived at this spot through saving and savvy investment.
What Homeownership Has Meant to Me
For me, homeownership means investing in my future. It's also a way to control housing costs. With each purchase, I've based the range of homes we can afford off of our current income. We've never stretched beyond our means.
I want to share this video talking about the issue:
Homeownership also means gaining control. New York rents are astronomical. I've been able to avoid negotiating with landlords because I am an owner. The few times we've had to rent in NYC there has ALWAYS been an issue with our landlords. One kept our $5,000 security deposit and I took him to small claims court (and won). Another promised a two year lease and then rescinded that promise.  
When I talk to my girls about money and investing, I encourage them to start saving early and to look to homeownership as a way to start accumulating wealth. Did you know financial surveys show that parental home ownership greatly impacts a millennial's likelihood of owning a home? My girls are seeing me amass wealth through home ownership and they are much likelier to copy my behavior when they are adults.
Millennials and Homeownership
Here's what we know about Millennials and home ownership - they are less likely to be home owners than Baby Boomers and my generation, Generation X. These numbers include data when Millennials were in the same age category. Millennials (born between 1981 and 1997), are currently the largest generation in U.S. and they are the future of our country.
I recently took a look at the Better sponsored Urban Institute Research Report called "The Millennial Homeownership: Why Is It So Low? And How Can We Increase It?" to find out more about the numbers. Here are the three factors that involved:
1. Millennial's have high student debt. The costs of higher education have risen far faster than incomes. Putting money towards student loans also means they've had less income to put towards a down payment. It also means when qualifying for a mortgage, the debt they have affects how attractive they look to potential lenders. 
2. Millennials often live in high cost cities. In NYC the demand always seems to outpace the supply. This means landlords can charge a ton. In money terms, this is called an inelastic market. In real terms, it means Millennials spend all their money on rent and find it really hard to for a down payment. 
3. Millennials are more likely to delay marriage and having kids. In this regard, I'm right there with them. I had my first daughter at age 34. Starting a family really does help kick in the nesting instinct. Having a child increases the probability owning a home by 6.2%
Join the #SpentOnRent Conversation
Just getting millennials to the starting line of the home buying process is hard enough. But once they are in a position to buy the new economy isn't helping them support their dreams. Obtaining mortgages has become more challenging.
The housing market crisis really changed the process. Easy money for mortgages just doesn't exist. It's harder to qualify for a loan if you don't have a lengthy credit history.
Most mortgage applications underestimate the creditworthiness of many Millennial borrowers both because the credit scores usually do not count rental histories and cell phone/cable bills and because income is often underestimated (many millennials have a side hustle!). It's something our country needs to talk about if we want to help millennials become home owners and start to accumulate wealth.
To learn more about how antiquated mortgage process and bad policy is impacting you, head to better.com/spentonrent
Pin it and spread the word!
Join the conversation on social media with the hashtag #SpentOnRent
This A Personal Home Ownership Story feature is sponsored by Better Mortgage.