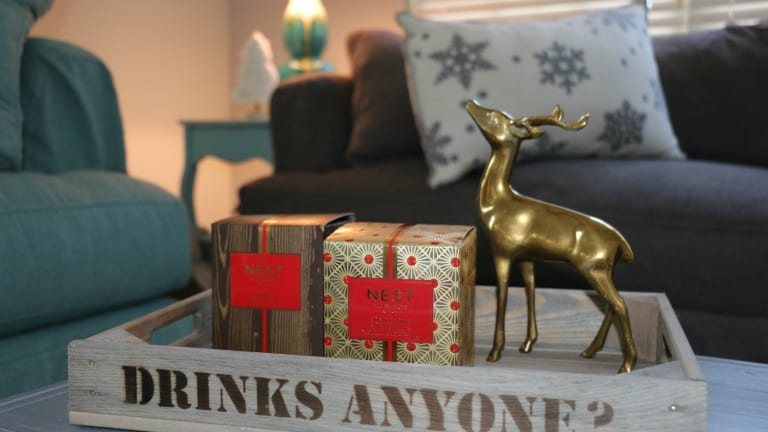 The Perfect Hostess Gift
Give the gift your hostess won't get for herself...
There are a million and one reasons why the holidays are my favorite time of year, but parties are right up there on my list. I just love gathering together with my friends and family for festive soirees galore during the holiday  season, don't you? And being that I host my fair share of get togethers myself, I know just how much goes into planning a good party. So, I never show up at a gathering empty handed. That means I'm always on the lookout for the perfect hostess gift. In fact, I thought I would share a few easy hostess gift ideas for you since I know you'll probably be attending at least one or two events at someone else's home over the next week!
First, I have to share with you my my new to go-to hostess gift find. And that's a Nest scented candle. Most hostesses I know love the ambience that a fancy candy gives off, but don't think to pick them up for themselves. That's why a Nest candle makes for a perfect hostess gift. For one, they come in beautiful packaging and glass jars. And secondly, the scents are simply divine. I'm loving Sugar Cookie and Hearth myself! They evoke such homey vibes. One smells just like baked goods and one will make you feel just like a fire is crackling nearby.
Some other ideas for fun hostess gifts include, something homemade like peppermint bark, cranberry orange bread or even a tin of Christmas cookies. You could also go the boozy route and bring your go-to wine or liquor. I"m always good for Prosecco, but then I'm partial to bubbles and think holiday parties are the perfect excuse to pop a cork!
So, as you head out to your holiday get togethers this year, don't forget to bring a little something for the hostess (or host) who's probably been working for weeks to make her (or his) gathering super special for you!
We were not paid for this post.