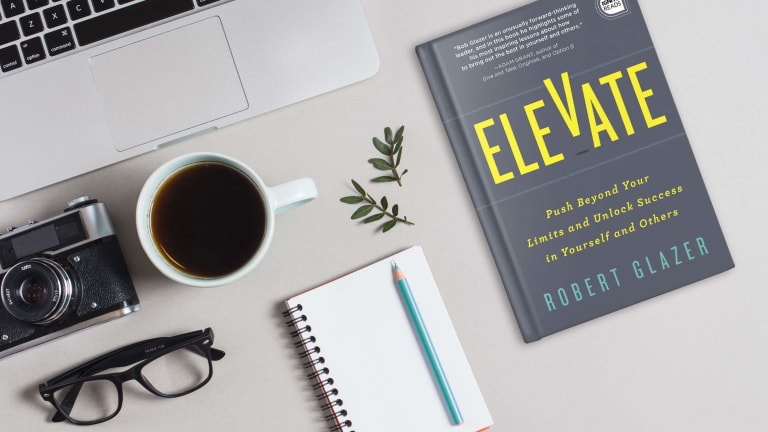 Perfect Business Book for Working Moms
Elevate, a bite-sized business and time management book prefect for busy working women
As I reflect on what worked in 2019, I'm review a few favorites. One book that really inspired me was Elevate, a bite-sized business and time management book perfect for busy working women, especially moms that work outside the home. I did a bit of social media promotion for the launch of Elevate. 
Who Is Robert Glazer and Why Elevate?
I've been subscribing to the Friday Forward newsletter from Robert Glazer for years. Glazer started Friday Forward to challenge people to improve and motivate them to make changes in their lives. I admit I don't read them every week, but when I do make time for Glazer's musings, it's always worthwhile.
Glazer is the founder and CEO of Acceleration Partners and he's a dad. He's a man firing at the highest level in more than one area. Unlike, Cal Newport's Deep Work (reviewed here), Glazer acknowledges the importance of family and inspiration beyond work. 
Digging into Elevate
I read Elevate in 45 minutes. Yep. Cover to cover, I whipped through this with pen in hand and marked up sections FAST. The book is published by Ignite and they focus on business books that can be consumed fast. Glazer delivers his messages succinctly. 
Unlike many business books, Glazer devotes a good chunk of his book on relationships. He reminded me that I have to start by having high expectations for myself. Glazer says there are four capacities we can work on: spiritual, intellectual, physical and emotional. I'm thrilled about the whole person approach to success. 
This year he's inspired me to look at all the relationships where I invest my time. I need to work on "pruning" the ones that hold me back. Doing this will help me free space up to work on projects that are more fulfilling and inspiring.  
Elevate is packed with powerful quotes
I use quotes to inspire my work and keep me on course. A carefully chosen quote can help me focus on what truly matters. Glazer has collected a bunch of winners for this book.
The difference between what we do and what we are capable of doing would suffice to solve most of the world's problems. -- Mahatma Gandhi
It has long since come to my attention that people of accomplishment rarely sat back and let things happen to them. They went out and happened to things. — Elinor Smith
In life we regret the things we didn't do and the chances we didn't take far more than the ones we did. -- Mark Twain
And here's a quote from Glazer that I am adding to my personal collection for the year. "Keep in mind the best feedback is often uncomfortable."
What I Learned About Goal Setting
Long-term goals should be derived from your core values and your core purpose. Understand the "why" for each goal. To get to my goals, Glazer reminded me I need clear Action Steps. 
Momtrends Action Step Reminder: Pick the three most important things to accomplish today and do them before noon.
Competition exists to help you make sure your goals are reasonable.  Competing is about elevating your own game, practicing, getting better, and giving a maximum effort.
I think we can all benefit from spending time with books to help us continue evolving and growing. When it came out, Elevate was quickly named to the Wall Street Journal Bestseller List for non-fiction, debuted in the top 50 on the USA Today Bestseller List, and reached the #1 spot in both Business Leadership and Motivational Self-Help on Amazon. Here's the ultimate Momtrends thumb's up: I think Elevate is a worthy investment of your time and money.
BUY THE BOOK
Get the Elevate book on Amazon here.
More Elevate Resources
You can also listen to an excerpt and overview of the book on a special edition of the Elevate Podcast.
Porchlight books, put together a free team discussion guide.
MORE BOOK REVIEWS FROM MOMTRENDS
PIN IT!
Use Pinterest to save your favorite book reviews from Momtrends. Follow our What to Read board here.
This Perfect Business Book for Working Moms review is not paid.