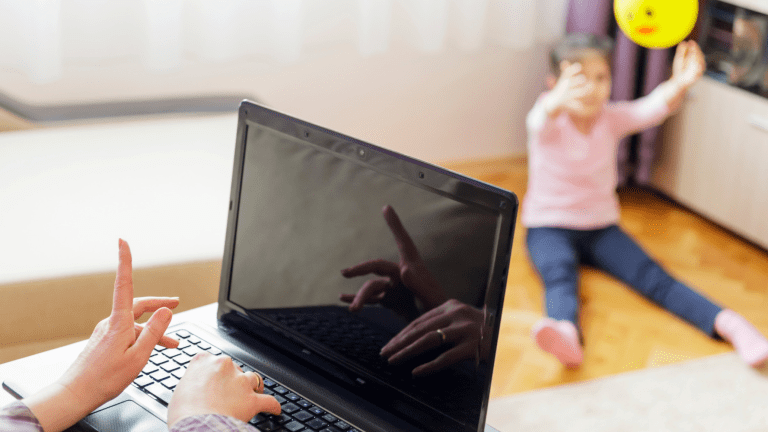 Parents Working From Home Can Learn From Their Kids
Many of us have been quarantining right alongside our children – trying to crank out work and be camp counselors, summer school teachers, and parents. It's a lot to juggle, and it can be a frustrating grind. But if we stop for a moment, we may realize that our kids can have a way of teaching us a thing or two. 
Here are some ways we can make the most of this new world of work:
Care for your colleagues: As parents, we painstakingly teach our children the importance of caring for themselves and others, but so often forget to apply it to our professional lives. In our children's book, Take Care, a little girl convinces her mom to bring a simple rule, "take care of yourself and others," from her elementary school class to her work. Our hope is to inspire employers, managers and individuals to examine their corporate cultures and look for opportunities to inject care into the everyday. It can be as simple as asking a colleague "how are you, really?" before getting down to business.
Use your kids' behavior as a gauge: Even with older kids, I start to notice more arguing and competition for my attention when I'm working a lot. If your kids are acting out or not getting along, consider the source. Is it a reaction to my own stress or overworking? Am I blurring the lines between work and home in a way that forces them to fight for my attention?
Create your own narrative: I always tell my kids they get to chart their own course, and we should do the same for ourselves at work. For example, ask yourself — is this a real deadline or did I just make this up? Sometimes we create our own narratives about something needing to be done today; make sure the work that you are choosing to focus on right now really must be done right now. Maybe you have more time or flexibility than you realized.
Be a human: Over the last few months, I've loved (virtually) seeing my colleagues in their home settings, with kids jumping in on conference calls and spouses popping in to say hello. Sometimes they get embarrassed but it actually is endearing and humanizing. Let's remember that we're so much more than the job we do – and use that to know and understand each other on a more personal level.
Go ahead, take a break: Ever sit down to work at home and suddenly its 5pm? Breaks are so important for burnout prevention, productivity and innovation and with kids at home we have a great excuse to take them. Schedule time on your calendar to sit down with them for a snack or take a short walk together. They'll feel prioritized and you'll come back to your work refreshed.
Put your phone & computer to bed: Create a stop time for your devices and literally put them "away" in a drawer, or a different room. Your family needs to know that they are the priority and that you're totally present – especially with the stressors of the world today. This not only makes for a happier, more secure family life, but also allows us to rest and recharge for the coming day.
Tips by Dr. Laura Hamill, Chief People Officer and Chief Science Officer at Limeade – an employee experience company.
Want more from Momtrends?
This is not a sponsored post.