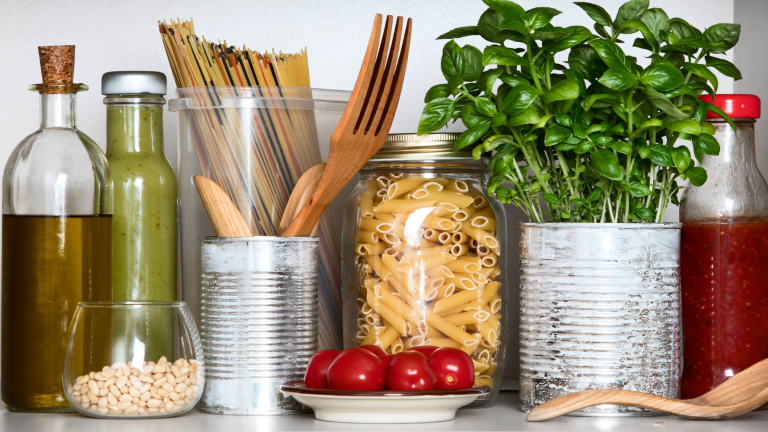 Pantry Meals You Can Make in a Pinch
Use-What-You've-Got Recipe Ideas
You should have seen the sheepish look on my husband's face this morning when he broached me, coffee extended, and said "Have a sip... Okay, don't be mad." He went on to apologetically tell me that the online grocery order he thought he had set up was actually never confirmed.
No big deal, right? Well, it sort of feels like a major problem when you're in the midst of a Coronavirus pandemic, and you're not supposed to leave the house. HOW DID YOU NOT REALIZE THIS? I JUST PUT $400 WORTH OF GROCERIES IN OUR CART. THE KIDS ARE BORED WITH CEREAL. I WANT FRESH FRUIT AND VEGETABLES. THE MILK WILL GO SOUR. ARE WE ALMSOT OUT OF COFFFEEEEE?!?!
Deep breath--remember, Lauren, during these uncertain times. it's critical to approach everything with gratitude. "I know we all make mistakes. You've been doing so much, it's okay. We will figure out an alternative. Sorry, I overreacted."
While getting groceries delivered still carries some risk in the age of COVID-19, it somehow feels less scary than venturing out into the big bad germ-infested world. Don't you think? I actually really don't know much of anything anymore. But I'd rather spray down my deliveries with Lysol than brave a line of people at the market.
We have another grocery delivery lined up, but that won't happen until April 8--a whole two weeks from now; I'm not quite sure we'll be able to sustain on ketchup and boxed pasta for the foreseeable future, so one of us will probably have to run locally to pick up some essentials, but I'm going to try to use what we've got.
In these moments of uncertainty, a stocked pantry can feel like a safety net. And even if you shudder at the thought of another can of soup, it's reassuring to know that you'll have food to eat should you, you know, not secure a grocery deliver until April (freakin') 8th. Eh-hem.
To maximize our meals, I've done a deep dive on pantry-friendly meals, and I'm sharing some creative (and delicious) ideas. Apparently, you can do a w hole lot with some chickpeas and canned tuna. Of course, you'll need to supplement with some fresh ingredients--and hopefully you'll have some in your fridge. Good luck, eat well, and don't forget to get up extra early to try to snag an InstaCart slot!
Easy Chickpea Curry via Eat Well Spend Smart
Pantry Chicken Spaghetti via Baked Broiled and Basted
Tuna Alfredo via One Mama's Daily Drama
Easy Cheesy Tuna and Rice via Darcy & Brian
Rice-and-Black-Bean Burrito Bowls via Budget Bytes
Pantry Pasta With Kale, Sun-Dried Tomatoes and Chickpeas
Instant-Pot Refried Beans via My Own Meal Plans
Want more from Momtrends?
1. The Best Italian Pizza Can Be Shipped to Your Door
2. 10 Breakfast Recipes to Try at Home
This is not a sponsored post.