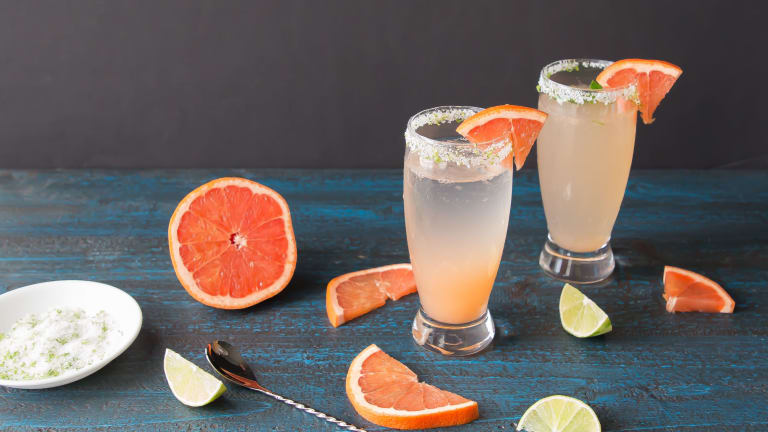 A Fun Fizzy Paloma Cocktail To Keep You Cool This Summer
With National Tequila Day coming up the 24th, whip up a batch of Paloma cocktails and catch up with your girlfriends.
Have you ever tried a Paloma?  If not, you should the first chance you get. Its layered pink fizzy yumminess should be enjoyed by all at least once.  And, with National Tequila Day coming up the 24th, it's the perfect reason to whip up a batch of Paloma's and catch up with your girlfriends.  
Related: Strawberry banana daiquiri
A Fun Fizzy Paloma Cocktail 
The Paloma originated in Mexico, and in my humble opinion, it blows the margarita away.  Don't get me wrong, I love a good margarita, but it's doesn't have that refreshing quality that shines through in this Paloma.  
There are several ways to make this cocktail.  I prefer to use fresh squeezed grapefruit and lime juice because the freshness and zing really make the cocktail pop.  Many recipes utilize grapefruit soda (jarrito's or squirt), but trust me, use freshly squeezed juice just once, and you'll never go back.  It's cocktail heaven.  
Since I opted for fresh squeezed, I incorporated a bit of simple syrup to sweeten the recipe.  Another perk of fresh squeezed is that I can control the sweetness and sugar content which is always a plus.  Sodas are too syrupy sweet for this girl.
Ready to give this refreshing cocktail a try?
Paloma Cocktail  Ingredients
makes 1 cocktail
1/2 Grapefruit, Juiced
1 Lime, Juiced
1 Teaspoon Simple Syrup
1.5 Ounces Tequila
1/2 Cup Club Soda
Ice
Kosher Salt (for salting the rim)
Lime Zest to mix with salt (optional)
Paloma Cocktail Recipe
Salt the rim of your glass. 
Fill your tall glass (highball or similar version) halfway up with crushed ice.  
Combine the freshly squeezed grapefruit and lime juices and pour over the ice.  
Add the tequila and simple syrup.  
Give a quick stir.  
Top up the glass with club soda. 
Bonus: To obtain the gradient layered effect pour the soda on a spoon and guide liquid down the wall of the glass. Garnish with lime or grapefruit wedges. A sprig of mint would be a great garnish as well. Serve and Enjoy.
Happy Sipping!
Need other tequila-based cocktails for the 24th?  Try this Tequila Sunrise, Blackberry Fizz, or Cilantro Lime Cooler!
MORE COCKTAILS AND ENTERTAINING IDEAS FROM MOMTRENDS
Mango Bellini cocktail
PIN IT!
Use Pinterest to save your favorite cocktail ideas. Be sure to follow our Drinks board here.
This is not a sponsored post.