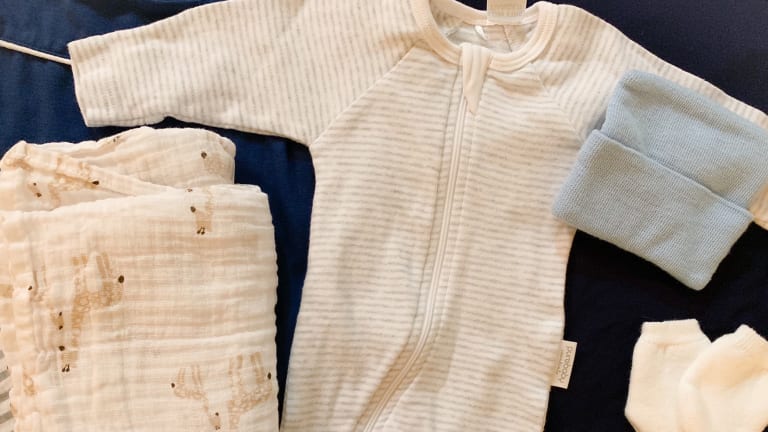 Packing a Bag for the Hospital
My baby's due date is less than two weeks away, so it's almost go time! I'm not always the best at planning ahead, but in this case, it's obvious that waiting until the last minute to figure out what to bring to the hospital is not a good idea. I'm happy to say that my bag is packed and ready to go.
Since this is my first baby, prepping for labor is completely new to me and there are lots of unknowns. But the birthing class my husband and I took was really informative, and I'm fortunate enough to have great advice from my friends who are already moms. Here's what I'm bringing for the big day or night…
My health insurance card and ID.
A little speaker for my phone so I can listen to music.
A pillow. I've heard the ones at the hospital can be flat or scratchy, so it's nice to have one that's soft and familiar.
A towel. Also a little bit of comfort from home so I won't have to rely on what's at the hospital.
A loose, comfortable nightie and robe, and slippers to walk around the hospital.
ThermaCare Heatwraps. The doula who instructed my birthing class told us that these can be key for relieving back pain during labor. I'm all for that!
doTERRA Essential Oils to help me focus and relax during labor (I hope!). This was another tip from birthing class. I'm bringing the lemon, peppermint, and lavender oils.
My Birth Ball. As my due date draws close, I've started sitting on this thing instead of the sofa or a chair while I work on the computer or watch TV. It's more comfortable, and bouncing and doing other exercises on it can help the baby move into position for birth. Apparently it can help relieve pain during labor too. So although it won't actually fit in my bag, it's definitely coming to the hospital.
Toiletries. My toothbrush and toothpaste, face wash, moisturizer, lip balm, contact case and solution are all packed. (To learn which products I've been using, check out my post on Pregnancy-Safe Skincare.)
Snacks. Because I probably won't be able to eat while I'm in labor, but my husband will. I'm packing Perfect Bars, nuts, and lots of water and Gatorade to keep us hydrated.
Clothes to leave the hospital in. Nothing fancy—just a loose sweater and comfortable track pants that fit me at my current size. Also a coat, because we're in NYC and it's getting cold out there!
An outfit for the baby, plus a hat, socks, and mittens. I've been washing and organizing all his tiny little clothes, and I can't believe he'll be in them so soon! To keep him warm, we're packing this 7 AM Enfant Nido suit.
A swaddle blanket and a burp cloth.
The baby's car seat for our taxi ride back home from the hospital. I have the Uppababy Mesa. It has a 5-star rating from NHTSA, and it's easy to install, with an indicator window that changes from red to green to confirm when the base has been installed correctly. So that's one less thing to worry about!
It's surreal to have all this stuff packed and ready to go, but also reassuring to know we'll be ready to walk out the door when the time comes. Now all I've got to do is actually have the baby! 
This is not a sponsored post.