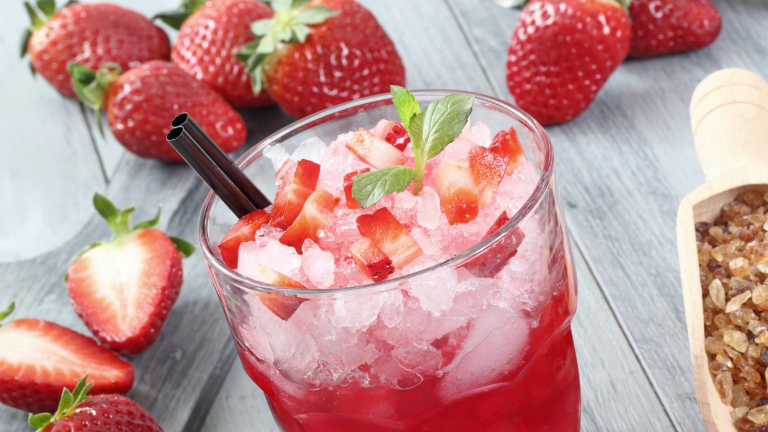 Our Favorite Sweet Strawberry Cocktail Recipes
If your favorite cocktails involve fresh strawberries you're going to love the nine recipes we've rounded up.
I'm a simple girl (and, no that's not meant to be an oxymoron). I like my libations clean, strong, and slightly sweet. One of my favorite cocktail ingredients: fresh strawberries. Muddle one up and throw it into just about any spiked drink, and I'm one very happy—and hopefully buzzed—lady. I'm sharing my nine favorite recipes for sweet strawberry cocktails.
Related: Whip up a strawberry dream margarita
When is Strawberry Season?
Strawberry season will be here before you know it, and I'm getting ready a little early—after all today is National Strawberry Day (February 27th)! It's a little strange that we celebrate these little beauties in winter, but we're game.
So I'm toasting the weekend with a bright, cool, and crisp glass of champagne (any $15 dollar bottle will do!) and infusing it with freshly pressed strawberries. It doesn't get easier, and it doesn't get more delicious. It tastes like spring is right around the corner (here's hoping)
Our Favorite Sweet Strawberry Cocktail Recipes
If you love strawberries as much as we do, you'll love this recipe resource we've accumulated. I've rounded up a few more delightful strawberry cocktails for your sipping pleasure. Happy Saturday! Enjoy!
1. Strawberry-Lime Moscato Punch via Real Housemoms/ 2. Strawberry-Coconut Cocktail via Drizzle and Dip/ 3. Strawberry Sangria via Gimme Some Oven/ 4. Strawberry Gin Smash via The Kitchn/ 5. Grapefruit Strawberry Collins via Sugar and Charm/ 6. Strawberry Shortcake Martini via Delightful E Made/ 7. Strawberry Daiquiri via Baking Beauty/ 8. Strawberry-Basil Moscow Mule via Marla Meridith/ 9. Fresh Strawberry Jalapeño Margarita via The Chic
MORE FUN SIPPING IDEAS FROM MOMTRENDS
PIN IT!
Looking for more ideas on what to drink? Check out the Momtrends' Wine Time on Pinterest!
This is not a sponsored post. All opinions are our own.