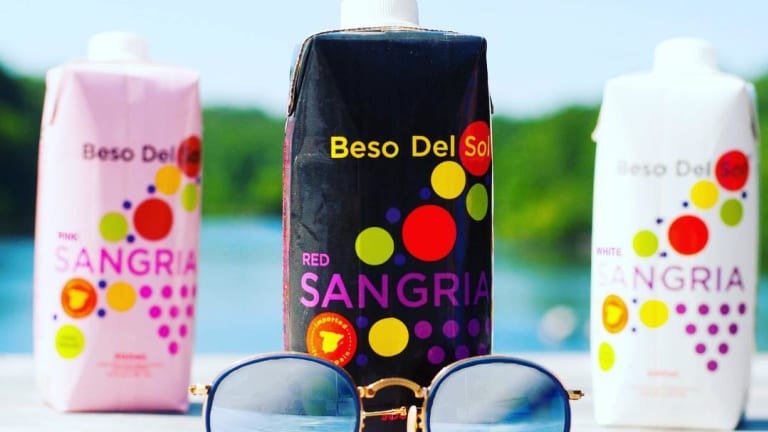 Our Favorite Simple No-Step Sangria
Don't want to make your own sangria? Beso Del Sol is the first premium, authentic sangria on the market.
The combination of wine, summer fruit and ice makes sangria a perfect summer drink. But usual sangria recipes require you plan ahead to cut up the fruit and let the flavors meld into the wine for a few hours or overnight. So what's a girl to do when she wants sangria right now? Beso Del Sol.
Related: Our favorite white sangria recipe
Why We Love Pre-Made Sangria
Beso del Sol or "kiss of the sun" is a pre-made sangria that lets you enjoy the flavors of sangria without any of the work. Available in both red and white wine, your next sip of sangria is as close as the twist of a lid. 
The Red Sangria blends 100% Spanish Tempranillo grapes with citrus juices and a hint of cinnamon. I opted for the white version that uses Airén grapes mixed with lemon, peach and mango juices. It was light, fruity and dangerously delicious! Ha! Both are best served chilled or over ice.
I love that Beso comes in 3L boxes for a party (or you know, to just keep in your fridge and nurse over a long hot week), 1L bottles, or these cute 500 mL Tetra Paks that hold three glasses and are perfect for camping, concerts or picnics.
Dressing Up Your Sangria
True, if you want to get fancy, you can add in your own fruit or use Beso del Sol in a cocktail, but for simple summer sangria without so much as lifting a knife, Beso is king. Visit your local grocery story to find Beso del Sol or www.besodelsolsangria.com to find a retailer near you.
Cheers!
MORE SUMMER FUN IDEAS FROM MOMTRENDS
PIN IT!
Be sure to use Pinterest to save your favorite ideas for date night. And for more Summer Fun, be sure to follow this board.