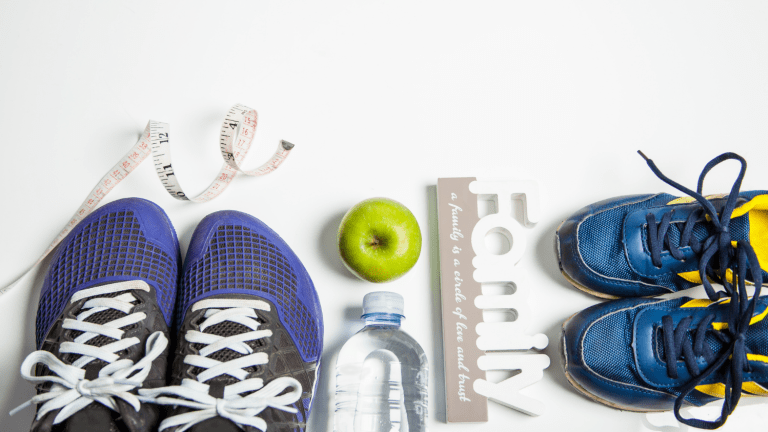 Our Favorite Family Health and Fitness Tips
Ten simple lifestyle changes to make a huge impact on your kids and your waistline.
With back to school season upon us we have been thinking about ways to incorporate exercise into our routines during the school year. This is a big issue across the country since obesity has tripled in the past 30 years. This greatly affects our children who are now facing shorter expected lifespans than their parents. To learn more about this issue, Joy Bauer hosted a fun webinar featuring tips on how the entire family can get fit (see tips below) and improve the health and fitness of an entire generation.
Related: The benefits of creating a family fitness routine
Our Favorite Family Health and Fitness Tips
To encourage a healthy lifestyle, Joy Bauer shared her family health and fitness tips - offering ten simple changes to make a huge impact.

Get moving as a family: Go to a park, ride bikes, or play ball or tag in your front yard.
Snack Strategically: Try to leave a 2 hour gap between snacks and meals so your kids are hungry, interested in real food and more apt to taste new things when lunch or dinner rolls around.
Make the TV room a no-eating zone! 
Sign your entire family up for a charity walk: It's a great way to spend time together, enjoy the outdoors and support a meaningful cause.
Give your kids an energizing start with a protein-rich breakfast: Try scrambled eggs with low-fat cheese, a non-fat yogurt with fruit, or apple slices with peanut butter.
Set up an obstacle course indoors or outdoors using everyday objects: Time everyone in the family to see who can finish the fastest.
Join a team, softball, swimming, dance, track, anything goes: You'll meet new friends, enjoy fun competition and dedicate more time to getting fit
Whenever you go anywhere as a family, park as far away from the entrance as possible: You'll get in plenty of exercise and every little bit helps! And whenever possible, take the stairs.
Give produce a starring role in your home.
Remember that you don't have to spend a lot of money to get physically fit and healthy as a family: It just takes some planning, motivation and creativity
MORE FAMILY FITNESS FROM MOMTRENDS
PIN IT!
Use Pinterest to save your favorite parenting articles. Be sure to follow our Running board here.
Momtrends was not paid for this post.