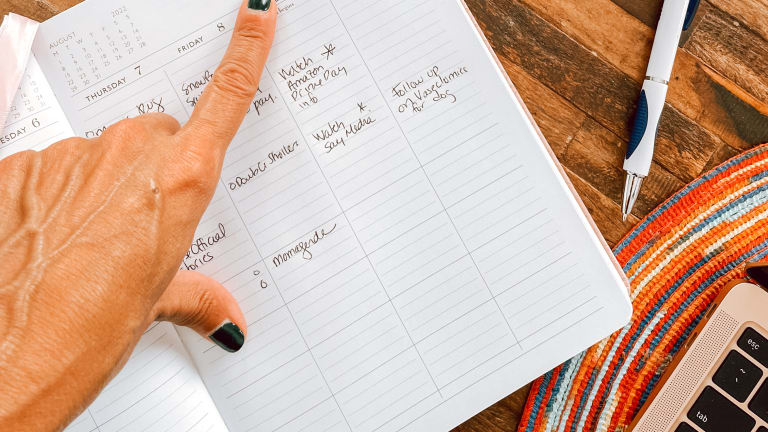 Organizational Tips from MomAgenda
Calendars and day-timers are nice, but an agenda designed just for a busy mom is even better.
We're keeping with the theme of keeping Mom sane as things heat up. I've found it essential to write dates and details down. Calendars and day-timers are nice, but an agenda designed just for a busy mom is even better. I'm in love with my new momAgenda Mini Daily. But a great organizer will only get you so far, I dug a little deeper to get organizational tips from MomAgenda.
Order your momAgenda here and use code MOMTRENDS to save 15% off your order. The new 2022-23 calendars are in!
Organizational Tools from MomAgenda
This year I picked the momAgenda Desktop. This month I am digging in to mapping out my best life with this classy desktop organizer. It's pretty, but most important, it is functional.
Yes, I do have a lot of my life in the cloud. I have a digital google calendar I use, but I also believe 100% in the power of writing things down and crossing off lists. I love the size. It's got plenty of space to write things down, but is also sleek enough to be packed when I travel.
This pretty planner measures 7″ x 9″ x 1″ and gives me a spot to organize my day and set out goals for the week. There are separate spaces for mom and up to 4 kids, allowing me to manage multiple schedules with ease. 
I picked "blushed croc" for my 18-month calendar. It starts this month and runs through December 2023. There are loads of practical touches like 2 ribbons to keep your place and a large section for notes, and then there are inspiring touches too, like the quotes found at the top of each week.
"Be thankful for what you have; you'll end up having more" Oprah Winfrey
Pick from nine colors and add a personal touch. I added MOMTRENDS in gold in the bottom right corner.
Get the desktop planner here. Use code MOMTRENDS to save 15%
Organizational Tips from MomAgenda
It's fairly obvious that a busy mom was responsible for this organizational lifesaver. I needed to know more, so I went to the source and talked to the momAgenda founder, Nina Restieri.
Q. How did the company come about?
A. I was a mom of 4 young children, ages 8, 6, 4, and 1. I was constantly missing appointments and double booking play dates, and just could not get my life together! One morning I woke up thinking about wedding planners; I wondered why there are hundreds of wedding planners to help brides organize a single day, yet there were no planners for moms, who need the help organizing every day! So I created a planner for myself and designed it with separate space for me and each of my children, and when I realized how well it worked for me, I decided to make it available to all women.
Q. What types of things were you forgetting before this product came along?
A. Everything! We would miss birthday parties... dentist appointments... you name it.
Q. Describe a normal hectic day and how your agenda helps you manage it all?
A. Here is a typical day for me: In the morning after breakfast, I walk my kids to school. Then I go back home and do some exercise, then shower and go to the office. That's when I focus on work, including emails, phone calls, appointments and lunch meetings. At 3:00, I pick up my kids from school and that's when the real fun starts! With 4 kids going in 4 different directions, there is no typical day. One may have soccer while another has a play date; the other 2 might go home and I'll help them with their homework. Around 5 we'll start dinner, then after dinner we finish homework and do bath time then reading and bed. Phew! I am exhausted just thinking about it.
Q. Any Back to School tips for parents doing this the first time?
A. Most important to me is to take time every Sunday evening to review the entire week. I make sure there are no conflicts, and if they are I arrange carpools. I also make note of any errands I need to run or groceries I need to pick up. This time on Sundays nights gives me a sense of control over the whole week.
Incredible! Thanks Nina. I also wanted to share some inventive BTS cleaning tips from The Maids, a residential cleaning franchise serving over 40 states. In between darting from football practice to gymnastics, make the grade using these quick cleaning tips from THE MAIDS Home Services.
Here's what you can do in 30 seconds:
Prevent soap scum buildup in your shower with a few quick squirts of daily shower spray.
Swipe the bathroom counter with a disinfectant wipe, clearing it of hairspray, toothpaste and soap scum.
Two minute jobs for Moms to Get Organized:
Gather stray clutter into a laundry basket. Just be sure to put everything in its proper place at a later time.
Sweep high-traffic areas, like the entryway or bathroom floor.
Spritz the bathroom mirror with glass cleaner and wipe dry with a microfiber cloth.
And at the expense of sounding like your mother, make your bed.
Got five minutes?
Start a load of laundry.
Wash the bathroom floor. Clean-up is simple if you have already swept it during your two-minute hiatus.
Wipe down kitchen counter tops. You don't want harmful germs finding their way into your food preparations.
Sort through your pile of mail and toss the junk. Remember to shred and recycle!
And if these tips don't work and you've got some extra cash hire a maid.
MORE ORGANIZATION TIPS FROM MOMTRENDS
Pin it!
Use Pinterest to save your favorite organizational tips. Be sure to follow our Organization board.
This Organizational Tips from MomAgenda feature is not sponsored.