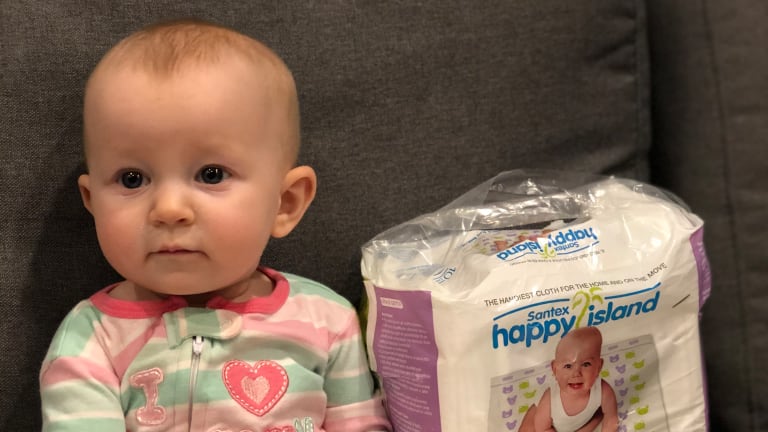 On the Go Diaper Changes Made Easier
It's true that with each subsequent child, you become slightly more lax about rules. My first was exclusively spoon-fed organic homemade purees. My second squeezed the store-bought stuff right out of the pouches. And my third? Well, she's currently gnawing on a whole bagel or shoving fistfuls of pasta into her teeny tiny nine-month mouth.
Yes, I have indeed become more laid back about the parenting do's and don'ts. I've breastfed, I've bottle fed, and I've cut myself a whole lot of slack along the way. I've tried different brands for formula and wipes and pouches, and I've been more open to saving money, saving time, and saving my sanity. I've gone from instilling strict sleep patterns to letting this little nugget nap at soccer games, during car-pool drives, and every where in between. You do what you've got to do—and you make it work. That's the mom-life juggle!
But there's one thing I refuse to compromise on: diaper changes. I remain as crazy hyper vigilant about diaper changes as I was on Day 1 of motherhood. I'm particular about the products that touch my baby's sensitive skin, and I'm nuts about where and when I change her. And one new discovery that has been a diaper-time game changer for me and my mini: Happy Island Baby Diaper Pads.
Light, soft, and cushiony, Happy Island Diaper pads feature safe adhesive strips that keep them in place and make each diaper change quicker, cleaner and easier. I love them for their simplicity and convenience—I stash a few in my diaper bag when we're on the go, and those out-and-about diaper changes immediately become so much less stressful.
I may no longer sweat all the small things with Baby 3, but I still can't stomach the idea of placing my little one on a communal changing table at malls, on airplanes, and in restaurants—ew! These pads take away the germ-ridden yuck factor and make public restroom changes much more pleasant.
Made in Italy, Happy Island's changing pads and portable play mats feature a hypoallergenic top layer with non-woven soft fabric that is gentle on Baby's skin. But they're still super absorbent and can stand up to leaks and messes, thanks to fragrance-free, triple-layer filtering.
Better yet, these nursery-design inspired waterproof sheets can also be used as a protective layer at home. I no longer use a designated changing table (because, like I said, Baby Number 3!). But I can just throw these down on a surface—the floor, in the crib, in the rug, the couch!—for easy and fast changes.
They'll come in handy during toddlerhood, too! Let's face it: his Mama of three will have no time to hover for potty training. I can lay these babies down on the ground, air out that little baby booty, and let her do her thing! Easy and breezy (literally.) That's Mom Life for you!
Tis the season… We're giving away One (1) grand prize winner a pack of baby pads as well as a Put & Peek Birdhouse by Manhattan Toy Company. These will come in handy for all your holiday travel and your ho-ho-ho on the go seasonal fun! Nine (9) additional winners will receive a pack of pads! Enter via rafflecopter, below.
Want more from Momtrends?
1. How to Make Bath Time Special for Baby
2. Slowing Down to Enjoy the Simple Moments With Baby
This is a sponsored post.