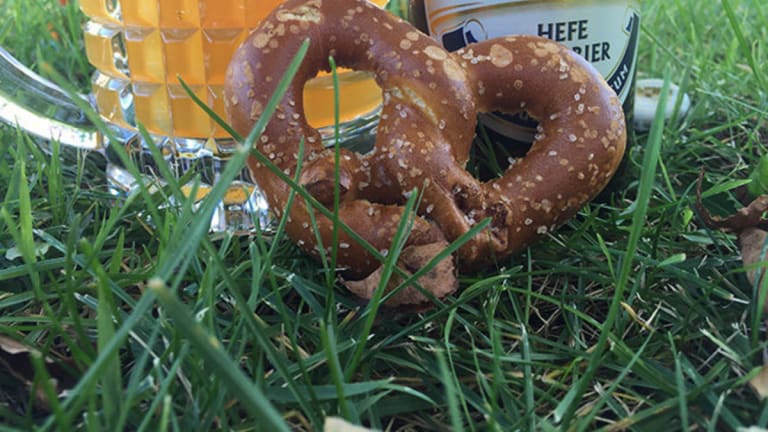 Bavarian Beer and Oktoberfest Party Essentials
Ready-to-buy supplies you can snap up in a pinch online to host another German-inspired Oktoberfest Party
Last year, we showed you how to throw a super-fun, super-festive Oktoberfest party with pretzels, printables, and "Prost"-worthy DIY details . This year, we're highlighting a few more ready-to-buy supplies you can snap up in a pinch online to host another German-inspired, beer-swigging, lederhosen-loving celebration.
Related: Delicious Caraway-Cheese Soft Pretzels Recipe
But there's one item you really can't be without for our own Oktoberfest fun—and that's beer, of course!
Traditionally, Oktoberfest is the world's biggest beer festival, held every autumn in Munich, Germany. But the good cheer has spread all over the world, and we're happy to hop on board the Bavarian bandwagon.
Now that the weather is starting to cool off, I find myself passing on the rosé and the whites wines and the sparkling Cavas, and opting for full-bodied beers instead. They just taste like autumn!
Drink a seasonal brewsky with an oversize pretzel and an oversize bratwurst, and you've got yourself a hearty meal worthy of an Oktoberfest fete.
Oktoberfest Party Essentials
Now that you have a traditional German beer, like our Weihenstephaner Hefe Weissbier, get yourself a few of these party-ready must-haves, and let's get this Oktoberfest started!
1. Oktoberfest Party Dinner Plates, $3/ 2. Lederhosen Vest, $3/ 3. Festive Napkins, $2/ 4. Snack Bowls, $11/ 5. Blue-and-White Pendant Banner, $4/ 6. Blue-and-White Lanterns, $8
More Easy Entertaining Party Ideas from Momtrends
PIN IT!
Save your favorite travel and party ideas on Pinterest. Be sure to follow our Celebrate Everyday Entertaining Board for more inspiration. 
This is not a sponsored post. All opinions are our own.