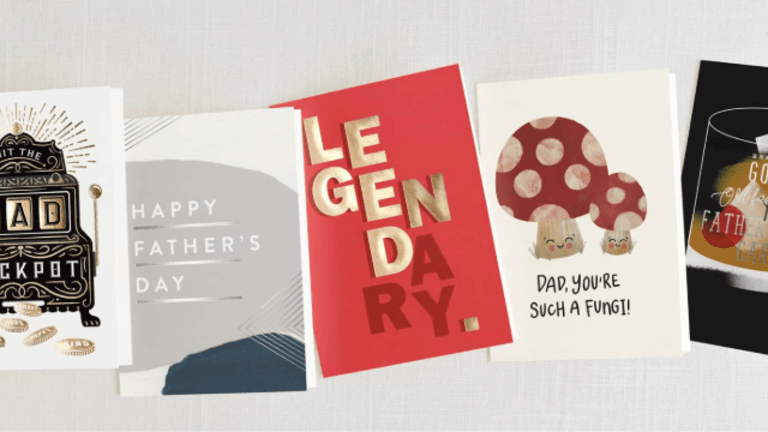 Why I'm Obsessed With Minted Greeting Card Subscription
Calling all stationery lovers. Minted has a new service we love.
Best intentions. That's what I have when it comes to sending personal notes to friends and family. But often I don't make time to get to my favorite stationery stores to freshen my supplies. That's why I'm obsessed with this Minted Greeting Card Subscription.
Related: Ways to spruce up your envelopes and letters
A Thoughtful Service for Busy Women
I like to think I'm pretty organized. My house is pretty neat and I rarely am late for meetings. But things fall apart when it comes to keeping in touch with friends and family via mail. I am a huge paper lover. I can go into a card store and shop for hours. Occasionally I do find time for this leisurely trip to stationery section, but more often than not, when it comes to Father's Day, or birthdays, I'm scrambling.
With this personal Minted service, I can pick out unique greeting cards any occasion coming up.
I love like all things Minted, the cards are designed by independent artists. And the convenience factor is huge. Minted send them all to you in time (for FREE), so you never have to worry about missing an occasion again. If you are like me, you have the best of intentions, this service helps you be the thoughtful, best version of yourself.
How Minted Greeting Card Subscription Works
1. Select your card design(s) here
2. Opt-in to the Minted Greeting Card Subscription, select any amount of cards needed, no minimum quantity required.
3. Enter your card and notification preferences, and shipping details.
4. If you forget an occasion on your first order, you can always come back and add more cards at a later time.
5. Minted ships out your card(s) directly to you in time for the occasion. Standard shipping within the US is always free!
Minted will continuously refresh the designs and greetings from independent artists and writers. And it's high quality at a great value. The cards on on luxurious paper are prices as low as $3.98 per card.
Your card(s) will arrive in 5 business days if you choose "Free Standard Shipping" Each shipment will contain all the cards you checked out in one order. Subsequent orders will arrive in additional shipments.
BONUS: For each occasion, Minted will remind you when to place your card in the mail or hand-deliver to the recipient.
More from Momtrends
We love all things paper. Don't miss this article about getting kids to write thank you notes. 
Are you ready to be the mom who is on top of her game? Well, with a little help from Minted you can.
Don't forget to get the details on the greeting card subscription program here.
MORE KID-CENTRIC FUN FROM MOMTRENDS
PIN IT!
Need more ideas on what to do with the kids? Be sure to follow our Activities to Do with the Kids board on Pinterest here.
This Why I'm Obsessed With Minted Greeting Card Subscription feature is not sponsored.