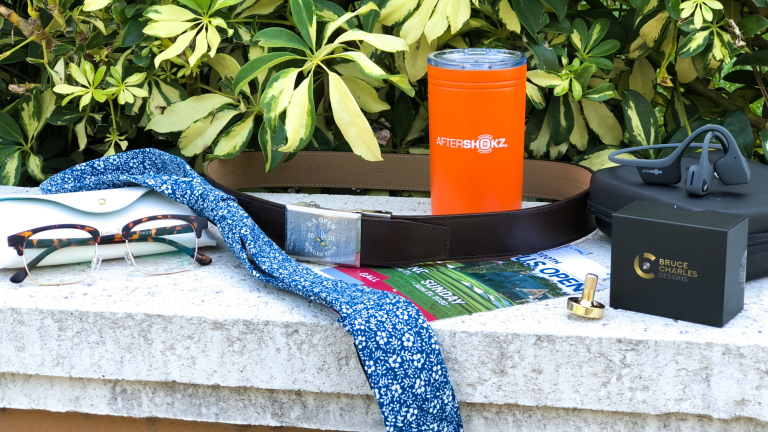 Not Your Average Father's Day Gift Ideas
Shopping for the dads in you life can be tough sometimes. We're here to help with some gifts that are not your average Father's Day gift ideas!
If your husband is anything like mine, shopping for a Father's Day gift is no easy feat. Gifts are just not his thing. It's as simple as that. If he feels like he needs something, he picks it up. And, frankly, he's so no frills, he doesn't feel like he needs much. And he doesn't expect gifts for any holiday which can make it tricky for his wife, moi, a woman who loves to give gifts. Bwah! But don't you worry, that doesn't stop me from trying to surprise him. Haha! That hard-to-shop-for fella of mine just makes giving a gift that lands all the sweeter. Because when they land, it's so fun to see him tickled!
And the picks that I'm sharing today are not your average Father's Day gift ideas, so I know any one of them would put a smile on his face. If you're currently in a shopping pickle, never fear. I'm here with some serious gift-giving solutions. You'll definitely find something for every kind of dad among these ideas! So, let's talk gift ideas for guys shall we? Because the big day is going to be here before we know it. And those wonderful fathers in our lives deserved to be celebrated. My children's father certainly does. He's the most supportive partner and loving father. He's definitely earned something good this year!
Father's Day Gift Ideas Every Dad Will Love
Wireless headphones...Speaking of something good. That's just what AfterShokz headphones are. They're SO good! Thanks to the open-ear design, they don't actually sit on your ears. That means you can listen to tunes or an audio book and keep an ear out for passing traffic. That's right. You can hear the world around you AND your music. Bone conduction wireless headphones are the safest way to tune into music and calls without tuning out surroundings. My hubs is an avid runner and I always feel safer when he's wearing these headphones when out and about!
* Special offer: Use code DADS for $50 off Trekz Air Tech Bundle. Valid until June 8th.
Ultra soft tee...Like I mentioned, my honey is a low-key kinda guy. So, unless he's at work, you'll almost always find him in a t-shirt. He has a million and one v-necks, yet he always seems to wear the same few and I know it's because they're perfectly broken in for him. Well, thanks to Hanes, I think we just added another one to the rotation. Hanes Black Label Tees are made from US cotton, are super-duper soft and feature odor-control technology. That makes them just right for summer.
Stylish eyewear...Forget about what you currently think about clip-on sunglasses. Zenni eyewear is about to blow your mind with their rectangle magnetic snap-on set. First you have a pair of super stylish glasses frames which are cool enough on their own, but add in polarized sun lenses that seamlessly attach to prescription glasses and you're really cooking with gas! My hubs is all for anything that makes life easier. I guess we all probably feel that way right? And not having to carry around glasses AND sunglasses certainly makes life easier!
Fun print tie...Now as far as ties go, my husband doesn't have to wear them a whole lot. His work is business-casual dress, so if a tie is in order it's for a special occasion like a wedding. And I want him to have ties that he enjoys wearing for those special occasions. He's all about a good funky print. (You should see his crazy sock collection.) So a fun and vibrant floral-print tie would definitely be at home in his closet. You gotta love their vintage twist on the classic floral tie!
* Special offer: Use code TIESXBABBLE for 15% off from now until 12/31/19.
Spinning top...Ok, this next gift idea is truly for the dad who has everything. A solid brass spinning top from Bruce Charles Design is surely something not every dad already has. With extremely long spin times, I'm talking over ten minutes, the guy you're buying for will be good and entertained. And the Schutte Pocket Top would look great on your favorite executive's desk thanks to the classic gold color brass and polished outer surface that displays a brilliant shine.
U.S. Open tickets...And, finally, we have a gift that every single golf fan would be delighted to open! Most golfers that I know are tournament obsessed. And that includes my hubs. We have gold tournaments on at our house onstantly throughout the year and the U.S. Open is a big one. So, imagine how excited the golf fanatic in your life would be when presented with U.S. Open Winged Foot tickets from USGA! The 2020 U.S. Open Championship will take place June 15-21,2020, so mark your calendar. Father's Day 2020 is June 21st next year!
And there you have it. I hope these Father's Day gift ideas help simplify your shopping this year!
MORE FATHER'S DAY IDEAS
PIN IT!
Use Pinterest to save your favorite gifts for Father's Day. Be sure to follow our Fathers Day board here.
This post is sponsored by BabbleBoxx.com.