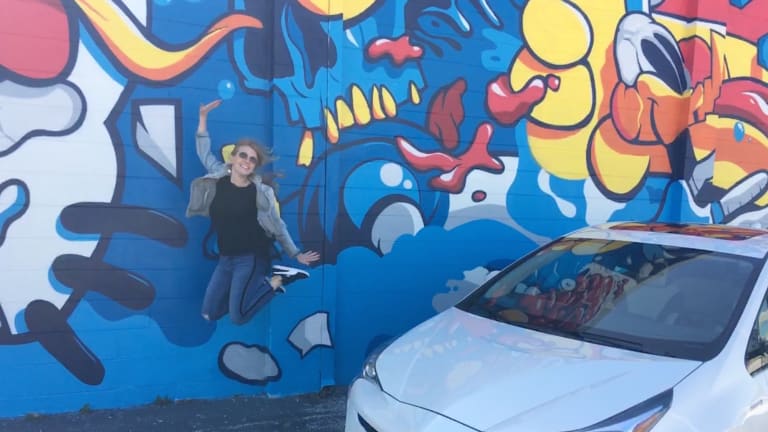 Road Trip with Toyota
Hit the open road with a stylish Toyota
I am just back from a road trip organized by my friends at Toyota, and I forgot just how good road trippin' is for the soul. Women are so often in need of some "me" time to refresh, recharge and spend time making meaningful connections. Toyota arranged a three day Spring Training ride & drive and it reminded me just how much fun it is to be on the open road. 
This trip was all about the ride, the journey. We weren't driving to school drop off, hurrying to a sports practice, or rushing home in the evening commute. We spent time enjoying being behind the wheel of the latest, most innovative 2018 vehicles from Toyota. We spent time paying attention to how the cars felt to us, how they accommodated us, the revolutionary changes that will make you think of Toyota in a whole new light.
We own a Toyota. We have always known Toyota to be reliable, affordable, and safe. When purchasing a vehicle for my family, those three topped my list of priorities and our Toyota has lived up to its reputation. But, until now, I wouldn't necessarily describe the Toyota vehicles like the Prius, or Camry as sexy. I had a chance to road trip in the 2018 Camry as well as the 2018 Prius and 2018 CH-R and this is Toyota's year for design...Game on, and they brought the sexy.
Did you know that the Toyota Camry has been American's best selling car for the last 16 years? Not only is the new 2018 Camry equipped with Standard Toyota Safety Sense P, and a new and improved gas and hybrid powertrains generating more horsepower and leading class-estimates MPG, but the newly designed Camry boasts style elements that made your head turn like a front grille with sports mesh insert, sleek, smooth lines, and a practical yet sporty and upscale design both inside and out. You get the latest in-vehicle information technology through three interlinked displays.  
Not only does the Toyota Camry look good, it drives like a dream. I loved the ride as both a passenger and a driver. It felt like the car was hugging the road, smooth and in control. It offered plenty of interior space to stretch out over our long time spent in the car. The sound system was impressive and the touch-screen navigation, intuitive and spot on, making finding our way in unfamiliar territory, ideal. One of my favorite features is the Entune 3.0 system which let us sing the 2018 Grammy album to our heart's content.  The 2018 Camry is a car that has all the practicality you need to make it ideal for your family, but with new design elements it is the car you will want to own.
As we hit the road for our spring training tour, my road partner, the lovely Christen Rochen, of Divas and Dorks.com and I chose the sporty (surprise that-it-has-4-doors- coupe) looking C-HR. This C-HR has a bold design, a diamond exterior which makes it look sleek and sexy, from no matter which angle you're admiring it.  
Equipped of course  with Toyoyta's Standard Toyota Safety Sense P, standard halogen headlights and taillights with unique cluster LED Daytime running lights and a 2.0 4-cylinder engine for an optimal blend of handling performance and fuel economy. This car brought the sporty factor up a notch. 
While not ideal as a main vehicle for a family with small children, this car is sexy, has pep and definitely grabs attention. I loved all the safety features, the back-up camera, and the road detection signaling when another vehicle was nearing my blind side or getting too close.
 It was fun to cruise around in and the front end of the cabin both spacious and comfortable. (I would have loved a dual cup holder in the front!) We loved the chic red. The CH-R handled everything we through at it, highway driving, a shopping spree and even the rocky roads of a dude ranch! 
The 2018 C-HR is pretty, sporty and inspires positivity. Doesn't it scream, "Drive me!"
For our final leg of our journey, we tried out the Prius. 
This car was a big surprise. It drove well and even when we pushed the speed limit-it didn't push back. One of my favorite features of this vehicle was the wireless Qi charging dock. I knew my phone was charging and I didn't have to worry about missing a photo opp due to a dead battery. 
Say goodbye to messy wires that can tangle and really get in the way while driving.  After driving around the sunshine state in the newly remodeled Prius, I can see why it is the #1 selling hybrid in the US. The futuristic design was a nod to my sense of style but the fuel-economy pleased the environmentalist in me. 
Toyota knows you don't want to interrupt your road trip to plug in, so the Prius smaller battery is packaged right under the rear seat which yields more cargo space as well as more time on the open road. 
It will come as no surprise that knowing we were in a Toyota made us feel safe and secure. The whole Toyota line is equipped with Standard Toyota Safety Sense P (TSS-P). This safety system includes, pre-collision system with pedestrian detection, land departure alert with steering assist, automatic high beams and dynamic radar cruise control. 
Road trips aren't about where you end up, are they? They are about the journey. This road trip delivered. It was chock full of laughter, sunshine, time to enjoy the scenic route, America's favorite past time--all surrounded by people that bring out the best in others. 
This is not a sponsored post. Thank you to our friends over at Toyota for inviting me to join them for their #toyotagrandslam spring training road trip and for hosting us for the weekend. Airfare, hotel, and other arrangements were provided by Toyota.