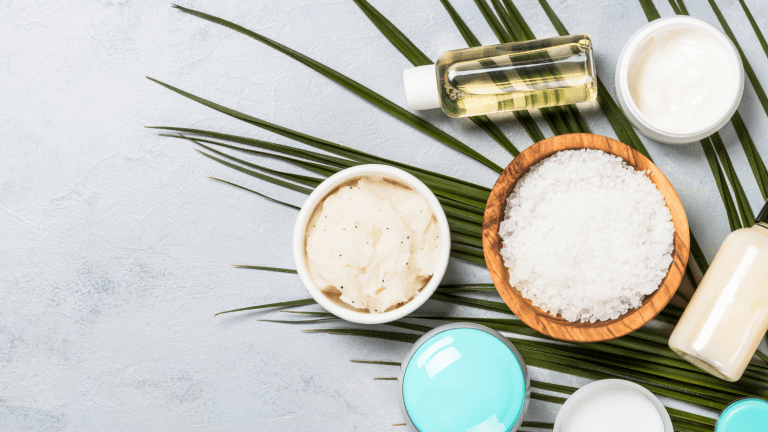 Natural Fat Burners that will Change Your Life
These five superfoods will definitely add a boost to your weight loss routine.
Nobody's perfect, we miss workouts, we cave into cravings, and sometimes with our busy schedules it's practically impossible to stay on track with our weight loss goals. I know that many of you are looking for the "magic bullet" to jumpstart your weight loss efforts. Believe it or not, there are several safe, all-natural superfoods that can supercharge your metabolism and help you burn fat faster!
Related: How to take time for yourself this summer
Dr. Lindsey Duncan, celeb nutritionist and founder of Genesis Today shared with us some of her top tips to melt away fat this summer. Check out her best ways to blast fat without alerting your lifestyle this summer with these natural fat burners that will change your life. 
Five Natural Fat Burners that will Change Your Life
Below I've outlined five of my favorite superfoods that can help you get back into your skinny jeans. Simply add these foods and supplements to your daily routine and you could see a very positive impact on your waistline. Best of all, the slimming effects of these superfood supplements are multiplied when combined with healthy diet and exercise.
Green Coffee Bean
This super bean has me truly amazed! In a recent 22-week clinical study, 16 adults who supplemented with pure green coffee bean extract for 12 weeks lost an average of 17 pounds each - this was 16 percent of their overall body fat! These are incredible results and one reason why I think that Green Coffee Bean could be an effective solution against the obesity epidemic that is plaguing our country and the world.
The key natural active compound in green coffee bean extract is called Chlorogenic Acid, and it works by slowing the release of sugar into the blood after eating. This prevents excess blood sugar from accumulating in our bodies where it is stored as fat. It also forces our body to burn stored fat rather than sugar for energy.
This is an incredible superfood for weight loss support, and it works especially well for those who have experienced weight gain due to poor diet or those who live with varying degrees of immobility. However, I also recommend that my clients who have a healthy diet use it as a secret weapon when they plan to splurge on carbs or sugar, like before enjoying a pasta dinner or cake at a birthday party.
You can find pure green coffee bean extract in capsule form, I recommend you take 800 mg at least twice per day about 30 minutes before meals along with a large glass of water. Read the label closely and make sure that the product only contains pure green coffee extract in a vegetarian capsule and absolutely no "other ingredients" in addition to the vegetable cellulose for the veggie capsule, also make sure you buy a reputable brand. 
Spicy Foods 
Simply add a little extra spice to your plate and it will rev up your metabolism. A recent study published in the Journal of Nutrition showed that adding spices like turmeric, cinnamon, rosemary, oregano, garlic powder and paprika to plain meals can cut back on the release of insulin and triglycerides after eating. The end result is basically that the body's metabolism, which is responsible for converting food to fuel, is working faster and more efficiently and preventing your food from turning to fat.
I recommend you try adding a tablespoon or more of these spices to your meals. The spicier the foods, the stronger they are at boosting the metabolism. Although not a part of this study, I often recommend that people try adding capsicum or ginger to meals or try adding these spices to a hot Indian spiced tea that you drink at least twice each day. Not only will you notice a difference to your waistline, but improved digestion as well.
Resveratrol  
You may have heard of resveratrol as being beneficial for heart health and anti-aging, but it is only beginning to make headlines for weight loss! A recent study released from Purdue University showed that this unique compound could help block fat cell formation, this is very promising news.
Resveratrol is found in the skin of pomegranates and grapes, which is why is so often associated with wine. However, the strongest natural form of resveratrol is found in Japanese knotweed. While a glass of red wine does contain resveratrol, I recommend you opt for a liquid supplement like Garden of Life Resveratrol. 
You can find Resveratrol at Whole Foods and other health foods stores. This product has 150 times more resveratrol than a glass of red wine. In addition to supporting healthy weight loss and healthy anti-aging - you don't have to deal with the hangover that comes with wine!
Raspberry Ketone 
This one has been making waves in the scientific community and has created quite a stir among Dr. Oz fans after he called it a "Miracle Fat-Burner in a Bottle."
Raspberry Ketones are an all-natural phenolic compound, or enzyme, that helps prevent weight gain by naturally stimulating the body's digestive process to breakdown fats and foods. In addition to weight loss and control, Ketones are also thought to help the body cleanse and detoxify. As an added bonus, the Ketone is the element responsible for the aroma and sweet smell of the Red Raspberry and it's believed that this characteristic also gives the Ketones the propensity to suppress appetite.
This is an excellent addition to any fat-burning regimen, and I have seen the results from this supplement multiply exponentially when combined with exercise. I recommend Pure Health's Red Raspberry Ketone supplement in capsule form, which you can find at Wal-Mart or online at www.PureHealth100.com. It is the purest ketone that I have seen on the market.
Kelp 
If you are unable to lose weight and are also feeling sluggish, your thyroid gland may be out of balance. A healthy thyroid gland is absolutely essential to our metabolism and many men and women today have a thyroid problem that either contributes to weight gain or the inability to gain weight. The truth is that you can help normalize your under-active thyroid gland by increasing your intake of the essential mineral iodine.
Rather than taking an iodine supplement, which could cause an excess of iodine in your body (let's not forget that many of our everyday foods like table salt are fortified with iodine), I recommend eating more kelp. This green sea vegetable is naturally high in iodine and has a normalizing effect on the thyroid. Make sure you are getting enough vitamin A, which enables your body to absorb the iodine, which will balance your thyroid.
In addition to iodine, kelp contains numerous vitamins and minerals, so I highly recommend getting as much of this seaweed that you can. I often enjoy it in Japanese Udon soup, or on salads, but you can even find it in seasoning form to use in lieu of salt to add flavor to any meal.
Working Superfoods into Your Life
Overall, if you're looking for a shortcut to lose a few pounds, these five superfoods will definitely add a boost to your weight loss routine. They are inexpensive, easy to find, and best of all they are 100% natural and healthy. Just add three or more of these foods to your daily routine and you'll quickly see results, combine them with a healthy diet and exercise and you have a sure-fire way to melt away fat fast. And don't forget my favorite exercise for weight loss is the "push away," which simply means to push yourself away from the dinner table before you are full!
MORE YOGA FROM MOMTRENDS
PIN IT!
Use Pinterest to save your favorite ideas from Momtrends. Be sure to follow our Fitness and health board here.
Momtrends was not paid for this post.