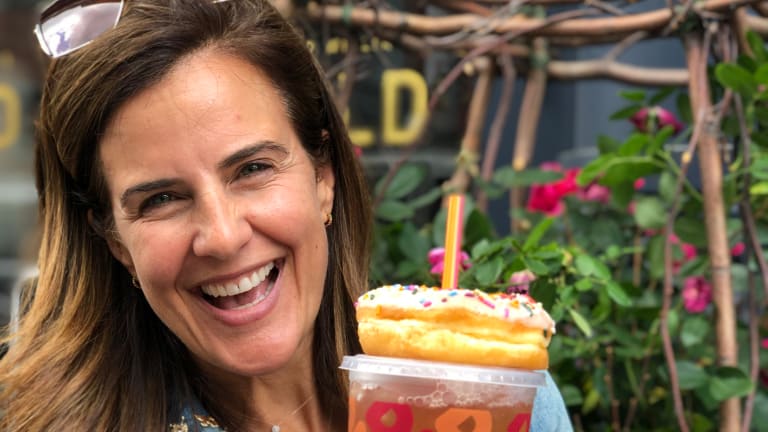 #NationalDonutDay Fun Facts
Dunkin' surveyed Americans and asked about Donut facts
Who needs help getting to the end of the school year? Some friends and I are teaming up with @dunkin to share some Dunkin' Gift Cards and #NationalDonutDay fun facts.
Today (June 7) Dunkin' is giving away a free classic donut with the purchase of any beverage and we're giving away $100 in Dunkin' gift cards! (4 winners in all). 
My Dunkin Love
I switched over from Starbucks to Dunkin' a few years ago. I'm a mega iced tea drinker and love the unsweetened iced tea at Dunkin. It's a calorie-free treat that keeps me hydrated and powered UP. The flavors are BETTER than Starbucks and the prices are cheaper. 
In addition, I think Dunkin is making some smart moves with the menu. The munchkins have been a go-to treat for school events for years, but I love that the brand has widened the breakfast menu to include the power breakfast that is low in calories and loaded with protein.
Dunkin' surveyed Americans and asked about Donut facts
Protein is great for every day. But some days call for a treat. National donut day is one of them. Let's talk sweet facts. Dunkin' surveyed Americans and asked: With whom would you most want to share a donut? In a close donut decision, 34% selected their spouse or significant other, while 32% went for the munchkins by choosing children. Additionally, 11% actually said "it's mine, all mine" and wouldn't share a donut with anyone. Which one would you pick?
Donut whole? Is it ever okay to cut a donut in half, leaving part behind? In this cutting debate, exactly two-thirds (66%) of respondents said yes, sharing is caring.
They all can have toppings: Donuts (22%), pizza (19%) and ice cream (15%) topped the list as the favorite foods for Americans to post or see on Instagram.
No matter how you spell it, it's still delicious. Fifty-seven percent (57%) say it's spelled "donut," and 43% say it's "doughnut."
Where do donuts fit?
You know we are all about healthy sugar consumption here at Momtrends. For us donuts are a treat and June 7th is the perfect time to celebrate the end of the school year and the beginning of summer. For more about when to treat yourself read this.
According to Dunkin' U.S. Chief Marketing Officer Tony Weisman, "Donuts are part of the American story and hold a special place in our popular culture, so we believe a day for donuts is a day for America. This National Donut Day, we encourage Americans to take a moment to 'Dunk Out,' recharge and enjoy their favorite donut variety at Dunkin'."
GIVEAWAY TIME! With our sweet giveaway you don't have to choose. PRIZE: 4 @dunkin gift cards -- grand prize $50 (1) card and (3) "munchkin!" cards of $15 each.
Head here on Instagram for all the details and to enter to win.
This #NationalDonutDay fun facts feature is not sponsored.