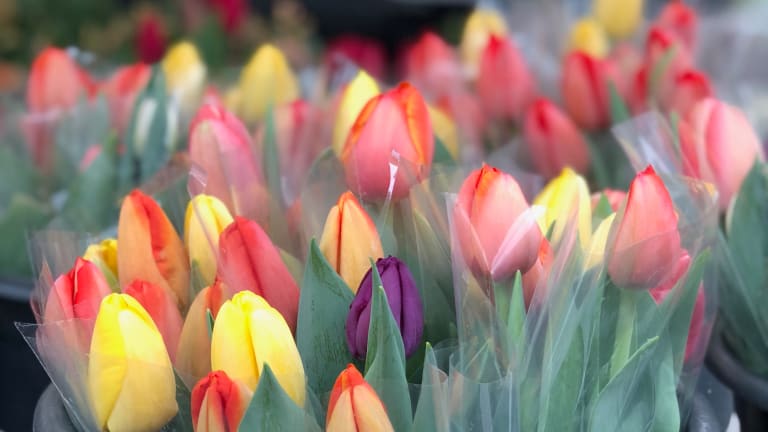 Myths and Facts about Allergies
Tips for managing seasonal allergies
This post was sponsored by Sanofi but all thoughts and opinions are my own.
It's happening. Spring is here. This week as I walked the girls to school I saw the daffodils out and the hibiscus were on full display. While I'm excited to see nature's colorful array, I also know that my sneezing, sniffling and stuffiness is about to begin.
Spring is a mixed blessing here in New York. The colors of the city slowly burst wide open. Gone are the black puffy coats jammed into steaming subways. Slowly, the city comes out of hibernation. The gray snow has melted to make way for farmer's markets and shops open up their outdoor cafes (albeit with heating lamps).
Spring Training with Allergies
For me, spring is also the time when I start training for my big annual half marathon. Once again, I've signed up for the Brooklyn Half Marathon in late May. Every year, I buy new sneakers to prep for the race and then I start taking my allergy medications. Training coincides perfectly with allergy season each year. And for me the early spring allergens are the most potent. 
I used to get caught off guard by my allergies but over the years, I've learned more about them and figured out the best way to manage them. I also realized that a lot of misconceptions exist about allergies that people just accept as the truth. For example, according to a recent survey, more than half of allergy sufferers believe allergy symptoms are inevitable and that you can't control them. But the fact is, there are many ways you can take back control.
I used to wait until my symptoms were pretty bad before I bought medication but I've learned that it's important to get my allergy medication before my symptoms start to make sure I'm prepared. So now, when I stock up on the on-sale Easter candy (hello jelly beans), I also get my Allegra.
I usually start using Allegra in April. This antihistamine offers fast, non-drowsy relief from allergy symptoms including sneezing, runny nose, itchy watery eyes, and itchy nose or throat. Relief starts in just one hour and stays strong for 24.  
When I was a student at Vanderbilt, I resisted taking medicine for my allergies because I thought all allergy pills made you sleepy. And I'm not alone – nearly 40% of allergy sufferers think all allergy pills make you sleepy. But it turns out that's another myth. While some first-generation antihistamines can make you sleep, second-generation antihistamines like Allegra offer non-drowsy relief. It's my perfect running partner.
Mom Tip: When I get home. I also change out of my "outdoor clothes" – small changes like this can make a big difference. 
Traveling with Allergies
Since my allergy "triggers" can strike at different times depending on the geography, I've learned to travel smarter, too. Fifteen years ago, when I was traveling through New Zealand, I was incapacitated due to allergies. My head felt like it was going to explode. I was so stuffy and miserable, I couldn't sleep. My big adventure Down Under wasn't going well. I tried a few recommendations from the local pharmacy. While my symptoms slightly subsided, I vowed to carry my favorite allergy relief with me wherever I went from then on. Now I have a little pouch tucked into my bag and ready to go. I don't want to miss out on anything due to allergies.

One in four allergy sufferers think allergies are only an issue during the day but that's another myth. Allergies can also result in sleepless nights, leaving you tired and unable to function properly the next day – just like how I felt in New Zealand. That's why I find Xyzal Allergy 24HR is ideal when I'm traveling because I want to make sure my allergy symptoms don't impact my sleep or my productivity. It's an antihistamine that offers continuous, maximum strength relief. Everything that I get...sneezing, runny nose, and itchy watery eyes…it's all covered. In fact, Xyzal is as effective at hour 24 as it is at hour 1, providing all night and all day allergy relief. Mom Tip: During allergy flare ups, I also take my shower at night so I can get the best rest with all the allergens out of my hair and off my body.
Other Myths and Facts about Allergies
Another big allergy myth is that you outgrow them over time. My allergies to pet dander have only gotten worse as I have gotten older. I used to be able to tolerate cats and dogs without medication. Now I start a festival of sneezing when I'm near my friend's pets. I have also learned that it doesn't matter what type of fur your dog has – I'm still likely to sneeze. I found out that all dogs can cause allergies. It is the skin flakes (dander) and saliva that cause allergies – not the fur like many people believe.
Another allergy treatment option that's effective and easy to pop in my "mom bag" when I'm heading to my friends' houses is Nasacort Allergy 24HR. It's a scent and alcohol free nasal spray that provides 24-hour relief of congestion, as well as other nasal allergy symptoms. It does this by blocking the body's chemical responses to allergens and reducing allergic inflammation in the nasal passages. And while nearly 40% of allergy sufferers think nasal allergy sprays are difficult to use, that's another myth – some are actually ergonomically designed to fit comfortably in your nose. Mom Tip: Wash your hands as soon as you can after interacting with pets!
Four Ways to Take Back Control From Your Allergies:
Learn more about the condition
Find out which medications work for you
Be prepared by having the medicines that work best for you handy
Control what external factors you can control
Pin it!
The more I've educated myself about allergies, the more empowered I feel. I know what works for me. Many allergy sufferers believe all over-the-counter allergy medications are the same but in reality, different medicines have different formulas and active ingredients, which means they may treat different symptoms and provide different kinds of relief. That's why I make sure to match my medicine to my personal needs. And the good news is that many of today's allergy medicines are available over-the-counter at full prescription strength.
With a little preparation, I don't have to miss out on running, travel experiences or day-to-day fun with my girls. What are your tips for managing allergies?
Educate yourself. Head to Allergy.com for more information.
ABOUT THE SURVEY
This online survey of 1,000 U.S. allergy sufferers ages 18 and over was fielded from January 28, 2018 to February 7, 2018 by Toluna. Allergy sufferers are defined as those who suffer from indoor or outdoor, seasonal or year-round allergies. In order to have qualified for this survey, respondents must have suffered from allergies in the past 12 months and must have done something to prevent or manage their allergy symptoms.