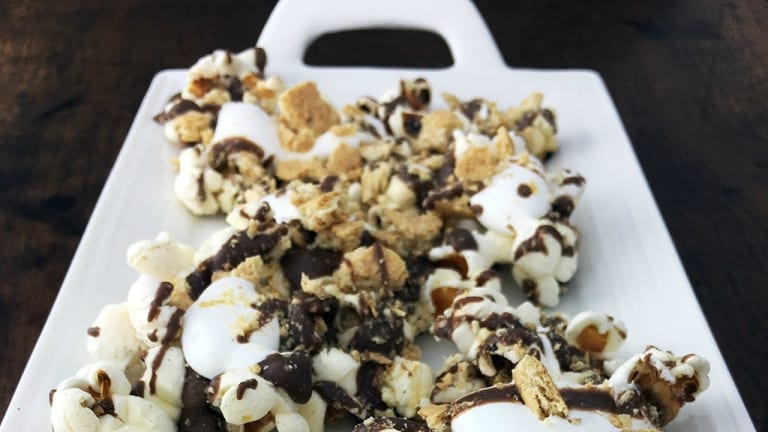 Must Try Popcorn Recipes
What's your favorite treat? Popcorn is definitely one of mine! And there is no better time to try out some new popcorn recipes like the weekend! Sunday is a day to relax and just spend time together at my house and I love treating my family to something special. That's where these must try popcorn recipes come into play. Sure, you can pop a bag of corn in the microwave, but why not think bigger? There are so many fun ways to dress up popcorn! An evening movie sesh probably isn't in the works being that it's a school night, but how about an afternoon one? Make one of these must try popcorn recipes, curl up on the couch and enjoy some snuggle time with your fam!
Popcorn Recipes to Try Now
S'mores Popcorn...If there is anything I like as much as popcorn, it's s'mores. Did you know you can combine the two? How good does that sound? Well, let me tell you, this popcorn recipe tastes as good as it looks! I'm talking, chocolate, marshmallows, graham crackers...the works!
White Chocolate Oreo Popcorn...I mean I thought combining s'mores with popcorn was a good idea, but OREOS...Be still my heart! And the white chocolate is a nice addition as well. Plus, this recipe couldn't be any easier. You'll spend hardly any time in the kitchen, yet seriously impress your family!
Raspberry Chocolate Popcorn...You're probably sensing a theme here, but chocolate just goes so well with popcorn. Bwah! And what's another match made in heaven? Chocolate and raspberry of course! This must try popcorn recipe combines the two in such a delightful way, they'll be screaming for seconds!
So, now that you've seen some tasty must try popcorn recipes, are you ready to take a page out of this mama's book and serve up some super special popcorn to your loved ones stat? I knew you would be! And if you haven't quite gotten enough chocolate yet, check out our boozy mocha frappe! This one's just for you 'rents, but it's perfect to enjoy after the kids go to bed!
We were not paid for this post.