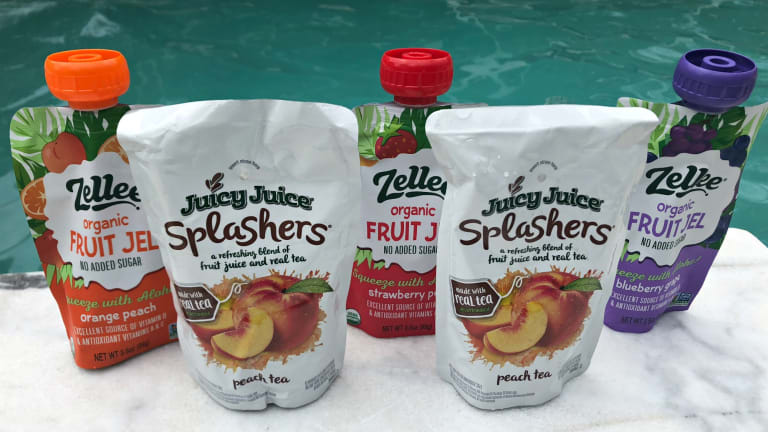 Must Try Fruit Pouches and Juice Boxes for Moms
Remember the fruit pouches craze? Of course, you do. We're still in the thick of it. And juice boxes...I know I'm not the only ones buying them in bulk. What would you say if I told you that I came across some must-try fruit pouches and juice boxes for moms? I mean haven't you ever just downed a fruit pouch or juice box on the run? We're all so busy and sometimes when you're running out the door it's just easier to grab one of those. The thing is, they don't always taste that great. They tend to be be overly sweet and geared more towards a kiddo's palette. Well, the fruit pouches and juice boxes for moms that I'm going to tell about today are so good, your kids and you parents alike will find yourselves reaching for them!
Zellee Organic Fruit Jel... This fruit gel tastes like a delicious fruit puree. I am totally serious. It's so good, it could double as dessert. My hubs and I both couldn't get enough of them. And they taste even better when you refrigerate them. When they're chilled they make for a super refreshing snack that you could serve your family in lieu of ice cream. I'm certainly not a opposed to sweet treats, but they're just that, treats. I like to keep healthier options on hand for every day. And "fruit jel" is my family's new go-to snack! My personal favorite is the orange peach flavor, but strawberry pear and blueberry grape are mighty tasty too! AND they're organic which is always a plus for this mama!

Juicy Juice Splashers...These juice boxes are about to rock your world. I know I said I buy juice boxes in bulk, but I do limit my kids to one a day max. Most juice boxes are loaded with sugar and my kids bounce off the walls enough on their own. Bwah! That's why I'm loving these Splashers. They're made with 50% less sugar than the average juice box and even come in parent friendly flavors like peach tea. My kids actually love tea. They've been drinking very weak iced tea since they were tiny, so this was another win win situation for our family. Hey, when I can find double duty anything that both the kids and the parents can use, I'm a happy camper! And don't worry...They aren't caffeinated!
So, the next time you go shopping for summer snacks or drinks check out Zellee Organic Fruit Jel and Juicy Juice Splashers. I'm fairly confident in promising that they'll be a hit with your WHOLE family! How can you go wrong with fruit pouches and juice boxes for moms AND kids?!
This is not a sponsored post. We did receive samples and it does contain affiliate  links.