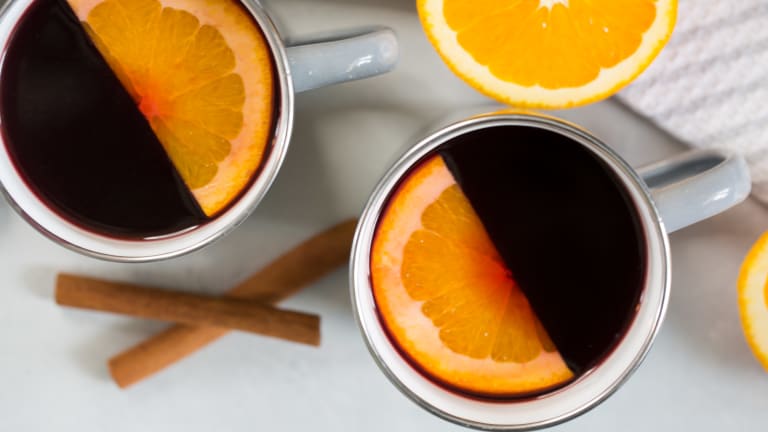 Publish date:
This Mulled Wine Will Keep You Cozy All Winter
Sip this savory warm drink as you soak in the joyous slow moments of the holiday season.
Sip this savory warm drink as you soak in the joyous slow moments of the holiday season.
Can you believe Halloween has come and passed? That means one thing, the holidays are quickly approaching. And, we all know what that means, our willpower will be tested over and over again. We will be inundated with sweets, carbs, and cocktails galore. Of course, we want to hold on to some semblance of balance, but we also want to indulge. How do I manage? I pick special things to sip like this mulled wine recipe. 
Related: Giftable amaretto hot cocoa recipe
First, when it comes to control, my tip is that, I always eat before I head out to my social gathering.  That way, I'm not too tempted to gorge on the sweets. My other holiday vice is the cocktails. Ladies, I love a good cocktail. My advice, only drink the good stuff, and this is very, very good!
This Mulled Wine Will Keep You Cozy All Winter
This desire to indulge in a drink or two and maintain a conscious and healthy lifestyle lead me to FitVine wine.  This line of wines has less sugar and sulfates than others on the market.  Since I also suffer from migraines, sulfates are something I have to watch closely.
With all of this in mind, I opted to use the FitVine's Cabernet Sauvignon as the base of my mulled wine recipe this year.  
There are so many variations of mulled wine, and it's a staple in so many countries around the world, there is no wrong way to "mull" your wine.  I used spices that I enjoy, but if something is calling to you, throw it in the pot.  
The basic recipe is typically a red with orange, cinnamon, and star anise included.  Also, sugar is usually a component as well.  I chose not to up the sugar content and used more spices.  Either way you mull it, your wine will be divine! And, this recipe is entirely scalable.  

Get Ready for Summer Tea Collection Sale
Even if we all have to stay local, summer is going strong. As you head to the pool or day camp you might have noticed your kids GREW during the past year. Just in time for summer, Tea Collection is rolling out a big deal on swimwear and graphic tees for kids. I've enlisted some ...read more
The Key to a Great Overnight Oat Recipe
Working moms know the importance of meal planning. I'm getting ready for busy few weeks and I've been perfecting my fast breakfast options. I've been using Bob's Redmill Organic Steel Cut Oats to prepare my overnight oats for a nice, cold breakfast in the morning and I'm going to ...read more
Morning Sickness Relief with Sea-Band Mama
While pregnancy is this amazing and beautiful time in a women's life, it is also one that can wreak havoc on the body. From morning sickness to discomfort to cravings, the body that you once knew so well becomes this vessel for your baby. Of course, this is all worth it but ...read more
It's also perfect for your holiday parties because you can throw it in the crockpot on low and let it cook while you're prepping your other dishes
Ready to give this recipe a shot?
Mulled Wine Ingredients: 
makes 4 mugs
1 Bottle of Cabernet Sauvignon
3 Cinnamon Sticks
15 Whole Cloves
1 Naval Orange, sliced 
1/2 Teaspoon Freshly Zested Nutmeg
8 Allspice Berries
2 Cardamom Pods
1 Vanilla Bean, split and scraped (add the pod to the pot as well)
Mulled Wine Directions
Add all ingredients to a pot and cook on your stovetop over medium heat until it reaches a simmer.  
Turn to low and cover.  
Continue cooking on low for about 20 minutes.  
Serve immediately and garnish with additional cinnamon or orange slices if desired.
Note: If making a larger batch in the crockpot, add all ingredients and cook on low for 1 hour. 
More Favorite Holiday Drinks
PIN IT!
Use Pinterest to save your favorite gift ideas. Be sure to follow our Holiday Recipes and Crafts board here.