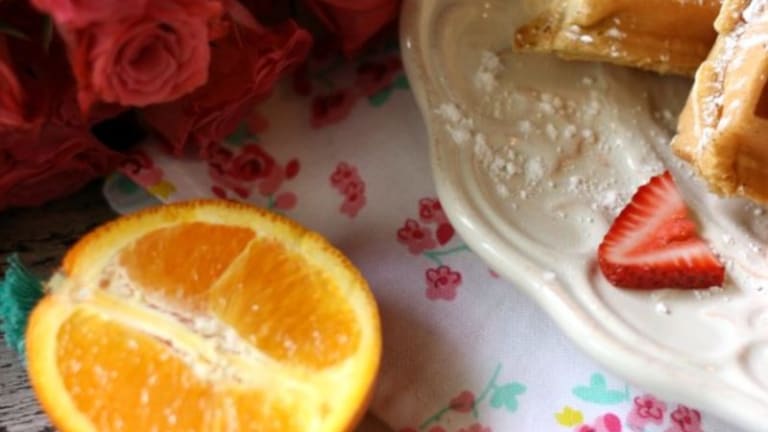 How to Plan the Perfect Breakfast in Bed for Mother's Day
Because mom is someone special, be sure to be ready to know "How to Plan the Perfect Breakfast in Bed for Mother's Day!"
Mother's Day is the one day a year where everything stops, and for a few moments in time, you get to stop, look around, and truly feel appreciated. As a busy mom, I am up every day of the week before the rest of my house, getting everyone ready for school and work and running out the door myself to go on errands and what not. The days of being able to lounge in my bed are long gone. That's why, every year, when the kids ask me what I'd like for Mother's Day, I reply with a very simple response: to stay in bed. To be more specific, to have breakfast in bed.
Related: DIY breakfast in bed tray
Plan the Perfect Breakfast in Bed for Mom
Let's be real, the kids could serve me a glass of water and I would be thrilled. But we all know that kids really do love going out of their way to make something sweet and thoughtful for their true love, their mom.
So, hand the phone over to your significant other or your old-enough children! Here are a few ways to make sure breakfast in bed on Mother's Day is spectacular, just like you!
Keep things simple: The kids should pick a breakfast idea that is fairly simple to make, doesn't include a lot of steps, and doesn't make a lot of noise.
Think decadent: This is a special morning! Treat mom to something fun and yummy! Something she wouldn't just make herself any 'ole day. Trust me, she can go back to making herself egg whites on whole wheat toast tomorrow.
Clean up after yourself: The less mess the better! After a lovely morning being treated to breakfast in bed, I can assure you mom does not want to come down the stairs and find her kitchen is destroyed. Clean up dishes as you cook, dust off crumbs from counter tops and maybe even load the dishwasher.
Fresh is best! Treat mom to some freshly squeezed juice! Kids love to use the juicer. You can even work on this step the night before. Pick out some lovely juicy oranges and give them a squeeze!
Treat her to a gift: While breakfast in bed is enough, surprise her with a handmade card and some fresh flowers.
Plan the Perfect Breakfast in Bed Menu
One of my favorite breakfasts? Waffles. Hands down. But, I never have time to make them for myself! I would love to have these delicious fresh berry waffles on my plate when my kids come upstairs to surprise me with breakfast in bed on Mother's Day!
Fresh Berry Waffles Recipe

Prep: 10 minutes Cook time: 10 minutes Serves 4
Ingredients
2 cups all-purpose flour
1 tbsp baking powder
1/2 tsp salt
3 tbsp sugar
2 large eggs
2 cups milk
1 tsp vanilla extract
1/2 cup blueberries
1/2 cup strawberries, diced
Directions
Heat up waffle iron
While iron is heating, mix together first 7 ingredients.
Fold in berries.
Lightly spray waffle iron with non-stick spray or coat lightly with butter.
Add 2/3-3/4 cup of waffle mix to the iron - (enough to cover the iron without any mix spilling over).
Cook until waffle iron beeps or until waffles are golden brown and cooked through.
Top with sugar, fresh berries, butter and syrup.
How are you planning to make Mother's Day extra special this year?
MORE MOTHER'S DAY INSPIRATION
PIN IT!
Save your favorite ideas to Pinterest. Be Sure to follow our Mother's Day board here.
This is not a sponsored post. All opinions are our own.