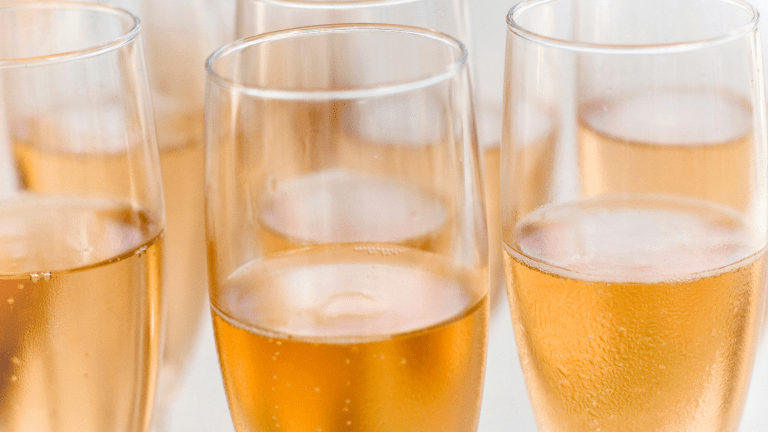 Moscato D'Asti is My Bubbly of Choice this Holiday Season
Use this lightly sparkling, low-alcohol wine to mix up a delicious pear cocktail.
This is my holiday fantasy: my husband and I are sitting in front of a roaring fire, the kids are asleep and we are sipping bubbly. Perhaps it's snowing outside. Maybe we're eating dessert. The important part here is that kids are asleep and we are drinking a sparkling, alcoholic beverage. That's all I want for Christmas this year. Since champagne doesn't come cheap, I thought I would have to settle for one night of bubbly in front of the fire, but champagne isn't our only option.
Related: Make an Aperol spritz
I just had the pleasure of tasting Moscato d'Asti from Piedmont, Italy. This delicious, festive wine is perfect with dessert, a cheese course, appetizers or in front of the fire with your hubby. With citrus, peach, honey flavors and a fun fizziness, much like champagne, Moscato D'Asti is a delightful wine that feels special, even though the price is approximately only $15.00.
Moscato d'Asti is a sweet, lightly sparkling, low-alcohol wine from Piedmont, northwestern Italy. As implied by its name, the wine is made from Moscato grapes grown in vineyards near the town of Asti and falls under Italy's highest category of production: DOCG
For even more holiday yum, Moscato d'Asti is perfect for mixing in cocktails. Here's a scrumptious recipe from the makers of Moscato D'Asti that uses fresh pears. Whip up a batch of Ricossa di Pera for holiday parties or for just a festive evening with your hubby. Happy holidays!
Ricossa di Pera Ingredients
750 ml Moscato d'Asti
1 cup pear juice
1 pear, sliced
Ricossa di Pera Directions
Steep sliced pears in 1 cup of the Moscato d'Asti for 5 minutes.
Transfer to the freezer until pears are frozen. 
In a pitcher, add 1 cup of pear juice to 32 oz of Moscato d'Asti and gently mix. Keep chilled. 
When ready to serve, add a slice of pear to each glass and pour.
MORE FUN SIPPING IDEAS FROM MOMTRENDS
PIN IT!
Be sure to follow our Cocktail Chic board on Pinterest and save your favorite Momtends articles.