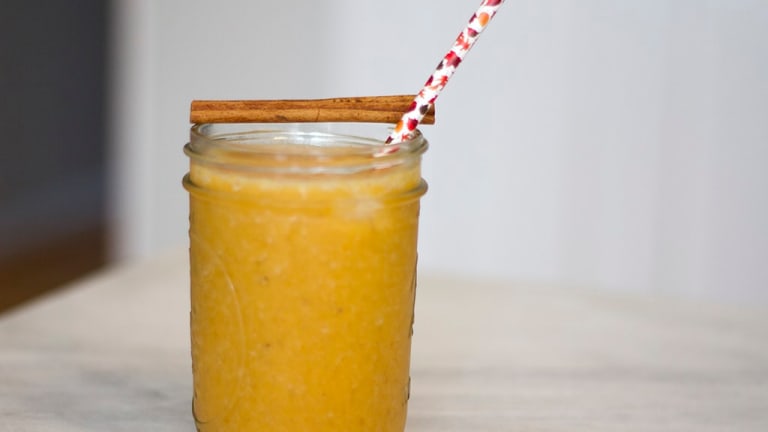 The Best Morning Smoothies to Start Your Day With
Do you have trouble getting going in the morning? Maybe it's hard for you to get a healthy breakfast in? These morning smoothies are just what you need!
Are you a breakfast person? Yeah, neither am I. The thing is, I feel so much better when I get a healthy breakfast in. So, morning smoothies are my go-to. They're easy to throw together and don't overwhelm me the way a plate of bacon and eggs do. Skip the skillet and grab your blender, we've found the best morning smoothies to start your day with.
Why We Love Smoothies
I mean, don't get me wrong. I LOVE a good brunch. I will definitely tuck into that plate of bacon and eggs later in the day, but when I'm up at 6am getting the kids ready for school, a smoothie s about all I can handle.
Related: Immunity Booster Smoothie Recipe from Weelicious
Luckily there is no shortage of tasty morning smoothies out there. And since I know I'm not the only busy mama out there who struggles with getting herself breakfast in the morning, I thought I would share a few of my favorite morning smoothies with you. Because we all know, we're going to take care of our kids and make sure they're fed, but we can't forget to focus on ourselves too!
Three Morning Smoothies to Try
Pumpkin Smoothie...Can you think of a better fall smoothie than a pumpkin smoothie? If you're the kinda girl who anxiously awaits the Pumpkin Spice Latte's arrival, you're going to love this smoothie. And as tasty as it is, it's not loaded with sugar. It's so tasty in fact, our kids are fans too. When you can serve up a smoothie that the whole family is into, I'd call that a win!
Sunrise Smoothie...Another fan favorite is this sunrise smoothie. Carrot juice lends another fall flavor and quick oats make this particular smoothie super filling. If I want to get my workout in after I drop the kids off at school, I have to fill my belly with something that will stick, yet not be too heavy. This smoothie fits the bill perfectly! As morning smoothies go, you can't go wrong with this one!
Essential Oils Smoothie...Essential oils are all the rage these days, aren't they? If you're still a bit skeptical about them, I get it. I was too. But I have to say, that I have found them to be very useful for when I need to relax, or on the other side of the coin, need a burst of energy. So, why not throw some into a smoothie? Essential oil flavors like lemon, lavender and grapefruit all taste good and could give you some great benefits to start your day off right!
More Food Features For Your Family From Momtrends
Pin It!
Use Pinterest to save your favorite recipes. Be sure to follow our Kid Food Pinterest board here.
Now that you've seen a few of my favorite morning smoothies, check out our tips for how to have a happier school year. Because when the kiddos are happy, their mamas are happy!
We were not paid for this post.