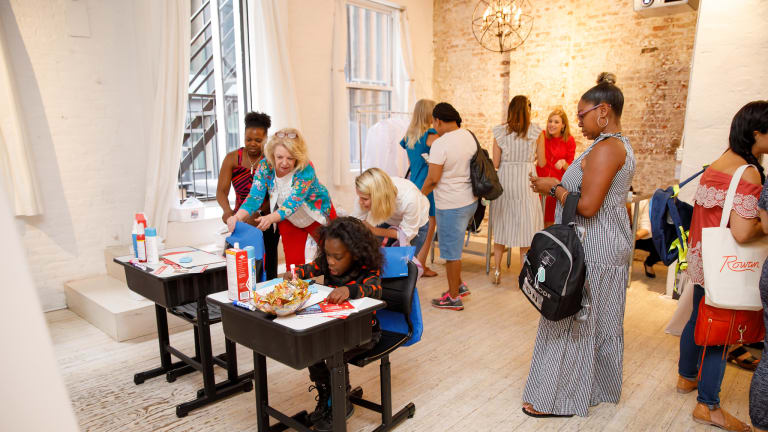 #MomtrendsSchool helps mom influencers prep for a great year
9th Annual MomTrends Blogger Back to School Event in NYC
We kicked off the back-to-school season in NYC with our 9th annual influencer event. Getting ready for a new school year is always exciting. Whether it's Pre-K or senior year of high school. The key as an editor is to keep the stories fresh. We are so proud of the trusted brands we work with on #MomtrendsSchool to help mom influencers prep for a great year.
#MomtrendsSchool Organization Tips
I simply cannot imagine heading back to school without new Mabels Labels. 
When other moms have to dig through the lost-and-found pile for that new down coat, our clothing never strays far because it's all labeled.
The same for those sparkling new school supplies that we sweat over. Every folder and binder gets a sweet little label popped on it, so it doesn't stray far.
Use code MOMTRENDSBTS for 10% off all labels at www.mabelslabels.com. This is an extra discount on top of our early bird prices on all school labels, which ends July 31.
Our blogging pals loved the Mabel's Labels experiments. We put on lab coats to play with the newest product from Mabels a self-inking stamp pad. The Mabel's custom clothing stamp is a boon for busy moms. Thanks to this stamp, I got through labeling all the summer camp clothes in a flash.
This Mabel's personalized clothing stamp labels all your kids' tag-less garments with just one quick and easy press. The stamp is preloaded with black ink, which means there's no mess and you never have to worry about a drying pad. The Momtrends code is not valid on the new Custom Clothing Stamp, but this product is on sale for the first time ever -- $7 off only until July 31. 
Shop for your Mabel's Labels here 
Clothing isn't the only thing that needs organizing. I also have to stay on top of all the school communications and help the girls learn to become more independent. 
While my life is more complicated, it's also a lot of fun to see the girls growing up and taking charge of their work. But, I do admit, I miss the days when there was art work coming home.
Plum Print reminded me of those sweet days. And they've inspired me to go through the messy boxes of artwork I have stored to create memory books.
Plum Print takes piles of children's artwork and transforms them into elegant coffee-table books. It's a simple process: gather the art, send it into Plum Print and they do the formatting and organizing. 
Check out how to create your Plum Print book here 
#MomtrendsSchool Prep Tips
Kids should come home from summer camp with memories, not lice. Sadly, that's not always the case. And it seems each year in September our school sends out the lice notice. 
Vamousse is there to help. Most moms I know have moved beyond embarrassment. We parents know lice is just a fact of life. What we want is a solution. 
We have been partnering with Vamousse for years to help educate parents about lice prevention and treatment. It's a not-so-fun fact that lice infestation is the second most frequent health issue seen in school-age kids in the U.S. 
We encourage our families to be armed with an ounce of prevention with the Vamousse Daily Defense Lice Shampoo and the Lice Repellent Leave-in Spray.
If you want a pound of cure, stock the pesticide-free Vamousse Lice Treatment. It allows you to end an infestation (lice and eggs!) in just one 15-minute application. It even works against pesticide resistant super lice. Plus, it's a safe, non-toxic, and pleasantly fragrant mousse, so it's easy for you and the kids.
Follow up with Vamousse Lice Elimination Powder to eradicate lice on non-washable household items too, and you and your family can move on with your busy school week.
Find out more about Vamousse here.
#MomtrendsSchool Fashion Show
For many of us, back to school means shopping for new outfits to make those first days extra special. Here at Momtrends, we think style points count. For many years, we've hosted a back-to-school fashion show starring our favorite mini influencers.
This year we recruited cuties from amongst our mom influencer friends to wear the latest styles from Appaman. The brand is known for bold graphic tees, amazing denim and always being on trend.
Appaman has incredible denim and I adore the graphic prints. I love that the clothes are on the trimmer side. Not tight, but not baggy; they look sharp!
Head here to see more of the Appaman collection.
When it comes to keeping little feet happy as they head off to school we are so thrilled that PairMe joined us. This brand has been in development for a few years and the concept is genius.
PairMe is all about empowering kids to dress themselves. It makes that "get out the door dance" a lot less stressful. Thanks to cool light-up accessories, kids never get the left shoe mixed up from the right. Just remove the adhesive from the PairMe set and place it on your child's favorite shoes.
The PairMe technology is incredibly kid-friendly. The PairMe device lights up when the accessories come together. When not in use, PairMe's have a built in "sleep-mode" feature that preserves battery life.
Find out more about PairMe here.
The right backpack is essential, TwelveLittle outfitted out mini fashion stars with the latest collection of backpacks and accessories. 
For this year's show we highlighted the cool 12Little x Sarah Jane collection. This collection brings beloved sea creatures to life. TWELVElittle has collaborated with Children's book Author and Illustrator, Sarah Jane, to launch this new collection, featuring everyone's favorite underwater friends: mermaids and narwhals!
The collection includes bottle bags, backpacks, lunch totes, pencil cases and more. Our mini models loved the collection!
Colorful and lightweight these bags have great storage systems. They will help kids start the school year off right. And we loved the coordinating accessories.
Shop the TwelveLittle Collection here
#MomtrendsSchool Sparkles and Shines
Backpacks weren't the only accessories we were buzzing about. The influencers were crazy for the new brand called Rowan.
Dreamed up by a mom entrepreneur, this new brand checks a lot of boxes for me. First, it's a clean, safe, convenient solution for ear piercing. While that trip to the mall, may SEEM like a great idea for a first piercing, it doesn't always pan out.
Say goodbye to ear infections with Rowan's skin-friendly collection and team of pros. Pop onto the site and search for a Rowan pro in your area. 
And that's just the beginning. Rowan is so much more. It's a brand about empowering girls to feel great in the skin they are in.
Rowan Earring of the Month Club is going to be our go-to gift this year. The brand is recommended by top pediatricians and psychologists.  
Designed to celebrate the magical moments of adolescence, the Rowan Earring Club arrives monthly. Tucked in the box is a fresh pair of earrings and tween-friendly content designed to initiate meaningful conversation. The first box will also include an earring stand, earring pouch, journal, and pen. All the jewelry is designed in Brooklyn and made with nickel-free metals and my girls adore the designs.
A few of the grown-ups in the room also joined in the fun. Stella got her ears pierced for the first time. It's a lot less scary when you are with friends and at the hands of a trained professional.   
Find out more about Rowan here.
#MomtrendsSchool Food Trends
Back-to-school time means schedules go into overdrive. But thanks to some of our foodie friends, we've got Mom covered. 
Yumble is a meal-delivery service just for kiddos. With Yumble (another mom-owned brand) you'll get fully cooked meals delivered to your door. For single moms or parents who both work outside the home meal time can be a huge source of stress. I admit to giving up sometimes and just letting the kids eat what they wanted because I hadn't planned things well.
With Yumble, moms get to pick from a customizable menu of fully cooked all natural kids' meals. With 20+ meal options, it's easy to map out a month of dinners without having to stress out.
Kids love them because it's not just about the food. The delivery includes activity sheets, rewards and more. Moms love the quality that includes organic options and no refined sugars.
Yumble makes healthy kid meals fun! Get set up here.
Are you prone to snack attacks? I'm with you. Back-to-school time makes this mama hungry. I love that Lundberg Farms is stepping up the snack game with new bold flavors.
Lundberg Family Farms traces its roots to 1937, when Albert and Frances Lundberg moved to California from Nebraska. The family went on to pioneer organic rice growing in America and they've been our go-to dinner companion for years. 
Over time, the folks at Lundberg have come up with creative ways to use rice. My family loves the rice chips they make and we were pumped for the their latest product: rice chips with BIG flavor.
We snacked on the newest Bold Bites rice chips at this event and our blogging friends loved them. These chips are anything but boring; they are perfect for dipping with guacamole or enjoying straight out of the bag. 
It was hard to pick just one favorite flavor, but I think Street Taco may have taken the prize.
Find out more about Lunberg Bold Bites here.
Which back to school trend is your favorite? Let us know!
This #MomtrendsSchool helps mom influencers prep for a great year feature is sponsored.