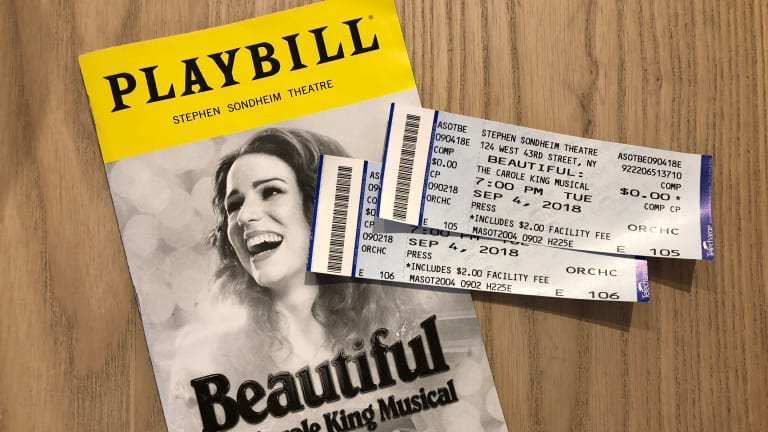 Momtrends Review Beautiful on Broadway
Carole King's Family Friendly Musical
Broadways is big part of my life as a city mom. If it weren't for all the amazing creative things happening in this city, it would be a pretty tough place to live. Seeing Beautiful: The Carole King Musical on an average Tuesday night was a perfect reminder as to the WHY I live in this crowded, filthy city. This place is simply simmering with talent. Spoiler Alert: The Momtrends Review Beautiful on Broadway is going to be glowing.
Beautiful The Carole King Musical
I went into the performance not knowing much about Carole King. I knew her top songs but not the origin story. The musical focuses on "making it," her early high school successes and loves. Carole was born in NYC in 1942 (her original name was Klein). Most of the action takes place in 1960's NY when King teamed up with her boyfriend to write songs. She did the music, he wrote the lyrics. 
A good majority of the show focuses on their romance and the creative work of song writing. The duo married, had a baby and penned huge hits for the pop stars of the day. I recognized 70% of the songs. My daughter, she only knew 1-2 of them, but she was charmed by the simplicity of King's early work and LOVED the later pieces in the musical.
Check out the video preview here:
Carole King as Inspiration
I loved seeing King's backstory and learning how defied so many odds. After the show, I did a little research and found out more about her successes. 
The portion of the show that focused on the early days was cute, but what really hooked me was seeing King reinvent herself post divorce and pour her heart and soul into her Tapestry album. Fun Fact: Tapestry topped the U.S. album chart for 15 weeks in 1971 and remained on the charts for more than six years. All while raising her kids! How's that for a mom boss!
She has won four Grammy Awards and was inducted into the Songwriters Hall of Fame and the Rock and Roll Hall of Fame for her songwriting.
You must see this version of her song Natural Woman by Aretha Franklin:
Beautiful The Carole King Musical Review
Now you know the story. Does it hold together? Yes, it does. The beginning is full of bouncy songs and a typical boy meets girl set up, but the meat of this show is the artistic process. Seeing a song born on stage is pretty cool. In a world of instant gratification and "likes" I appreciated how these artists sweat the details.
For music lovers and Broadway lovers, this is a surefire winner. It's all about following dreams and putting in the WORK to get there.
The basics of Beautiful
Beautiful is performed at the Stephen Sondheim Theatre 124 W. 43rd Street, NYC. It's in the heart of the Theater District and easily accessible by subway.
The musical's first performance was November 2013. It's still going strong and has tickets on sale through March 2019.
It's appropriate for kids of all ages. There's a little kissing and a few adult topics. Younger kids will appreciate the catchy music. Ideally, this is for kids 10 and up. If you have a sophisticated kid who loves Broadway, you'll be golden. 
Get your tickets here https://beautifulonbroadway.com/
Plan Your NYC Visit
Check out our NYC page for things to see and do in NYC and don't miss these highlights.
Pin it and See it!
Use pinterest to plan your NYC visit and Broadway shows. 
This Momtrends Review Beautiful on Broadway was not sponsored. Tickets were provided to facilitate this feature.