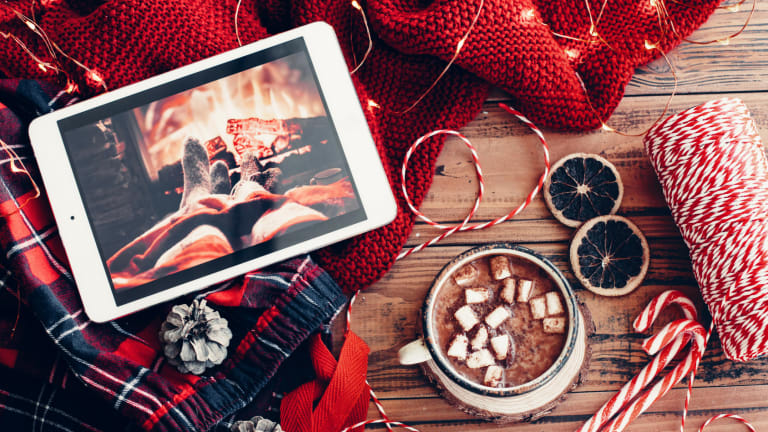 Momtrends' Guide to Holiday Chick Flicks
Our Favorite Seasonal Movies
Tis the season to curl up on the couch with a holiday movie or two. Invite the girls  over (or gather your kiddos), pour some wine (or hot chocolate), and nibble on Santa's cookie stash. (We won't tell.) In the spirit of the season, we've rounded up our favorite chick flicks to watch this month. Merry movie-ing!
Love Actually: If there's one iconic holiday movie that women can universally agree on as the ultimate chick flick, it'd have to be Love Actually; though men are also fans of this heartwarming, tear-jerking beloved British seasonal film (just ask my husband). With intimately intertwined stories of romance, marriage, and more, it drive homes the message that love comes in all shapes, sizes, and forms--and it really is all around. 
Little Women: The March Sisters--Jo, Meg, Amy and Beth--are more than family; they're trail-brazing best friends. Louisa May Alcott's post Civil War autobiographical novel comes to life in this charming epic holiday film.
The Holiday: Two heartbroken women, across the country, swap homes on a "holiday" from their lives, from their careers, and from the men who've wronged them. But in different surprising settings, they both find romance where they least expect it. Tis the season to fall in love, after all.
Elf: After learning his true human identity, Elf heads to NYC on a quest to discover who he truly is. Along the way, he warms hearts with his silly, impish acts that are frequently naughty (but always meant to be nice!). A non-traditional chick-flick pick, the "Baby, It's Cold Outside" shower scene makes it an instant classic. 

Bad Moms Christmas: The holiday season is hard enough for moms. They have to make it picture perfect for their kids, their families, their Instagram accounts... But now the bad moms of Bad Moms Christmas have the added challenge of hosting their own, eh-hem, opinionated mamas.
Bridget Jones: Team Darcy! A modern twist on Pride & Prejudice, Bridget Jones is a a sassy Brit caught with a history of poor decision making--especially when it comes to romance. But, somehow, Bridge finds herself in a tawdry love triangle. Call it a Christmas miracle, but Bridget won't be ALL BY MYSELF (herself... whatever.)
While You Were Sleeping: The man of Lucy's dream has been going through her subway token booth for months. But she can't work up the nerve to say anything other than Happy Holidays. Until, of course, he falls on the tracks and into a coma while she's on duty. When rescuers and zany family members assume she's his fiancé, Lucy doesn't contest. Soon, she finds herself wrapped in this fake life, but falling for someone else.
Serendipity: After one fortuitous meeting in a department store during the holiday season, their serendipitous love story truly is years in the making. Set to the romantic backdrop of NYC, it really is a modern-day Cinderella Story... with a glove instead of a shoe.
The Family Stone: Meeting the family for the first time is no easy undertaking for any woman. But it's especially difficult when you're uptight and Type-A and a total fish out of water. Alas, with a ring on her finger, she'll try to find her place in a unique family... or maybe she won't.
Scrooged: Okay, this one is probably not a chick-flick. But Bill Murray wins everyone over (well, eventually) as the modern-day(ish) Scrooge. And there is a touch of a love story, so we'll let this one go!
Miracle on 34 Street: The 1994 version of this iconic movie will make you believe. A little Christmas magic is just what those jaded New Yorkers need (hehe), and this charming film about a mysterious and merry department-store Santa will give you #allthefeels.
White Christmas: Charm abounds in this 1954 classic about a song-and-dance team that becomes romantically involved with a sister act. Together, they seek to save a failing Vermont inn.
Meet Me in St. Louis: The Smith daughters learn about love, life, and everything in between, as they reluctantly get ready for a move to New York, before the 1904 Louis World Fair.
When Harry Met Sally: I'll have what she's having... Harry and Sally have an amazing friendship that's flirted with romance for years--until one fateful night the unspeakable happens. With a climactic New Year's Eve ending, this movie captures iconic New York City and proves that one can (eventually) graduate from friend status.
Sleepless in Seattle: A young boy goes on a mission (and the radio!) to find "the one" for his widowed father. Meg Ryan and Tom Hanks give us all the warm and fuzzies--and the holiday background makes this movie even more magical. 
This is not a sponsored post. All opinions are our own.