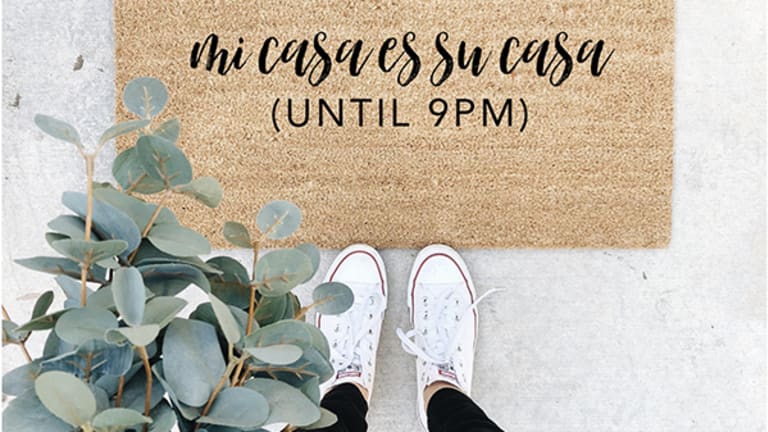 #MomLife Doormats That Tell It Like It Is
Ten doormats that sum up all the feelings of motherhood in the moment.
Mom life is the best life... Right?
Well, it's certainly rewarding and exciting and challenging and exhausting and frustrating and totally mind boggling... and did I say exhausting yet? (I can't remember, I'm really tired today.) To get the message out there, we've rounded up ten of our favorite doormats that tell it like it is. 
Related: How to organize your mudroom or entrance way
#MomLife Doormats That Tell It Like It Is
Yes, being a mom is not for the faint of heart... The work can be draining, the hours can be long, and the house will inevitably be in a perpetual state of chaos. Let's just say unannounced drop-by guests are no longer welcome! 
But a little bit of humor, levity, and, let's be honest, self deprecation can help make this crazy #momlife thing a whole lot more enjoyable and relatable. From funny tee-shirts to silly mugs, we love to point out the ironies (and daily quirks) of child-rearing.
Ten doormats that sum up all the feelings of motherhood
One way to break the ice: a hilarious doormat. Welcome guests to the jungle--and let them know what they're getting themselves into! 
"Mi casa es su casa (until 9 PM)" ... We're a lights-out at 8:30 PM family around here. Adults included. We love our friends and family, but we really value or zzz's... Soooo, until tomorrow!
"Baby sleeping... be quiet or babysit." ... Yep, every mama can relate to this sentiment. Before I had kids, I went to a friend's house and she had a handwritten sign on the door instructing guests to be quiet as the baby was napping." At the time, I thought this was somewhat insane and controlling... and then I had my own children. Lemme tell you, I called this gal-pal to apologize for my judging way. You do what you gotta do to keep that bebe sleeping longer.
"Please Hide Packages From Husband" ... Okay, I have mixed feelings on this one. I'm entitled to all my goodies and packages and Amazon Prime essentials--and, honestly, the hubs orders just as much! So no hiding here... But I do like to acknowledge my #momlife package problem to the good delivery men of the USPS, UPS, and FedEx--thanks for the hard work, fellas!
"Home Body." ... Calgon, take me away. Most moms I know are more excited for a night in than a fancy evening out. Wine (or tea), jammies, a television binge-fest, and take-in. In other words: The Chinese-food delivery guy is welcome here
"Please Knock So We Have Time to Clean Up." ... Ev-e-ry time. Mom life is messy. Every time an unannounced guest arrives at my door, I enter a mini state of panic. This gives those friends (or foes?) a little fair warning.
"Door Bell Response Times" ... We tell our kids that "honesty is the best policy," and this door mat is as straightforward as it gets. Sorry, MIL, we just don't have time for you today..
"Probably at Target"... Truth. I, like many moms, make a Target run at least twice a week. If you had to guess, the odds are in your favor.
"Hello Netflix Goodbye Pants." ... Be it ever so humble, there's no place like home. Ahhhhh...
"Visitors Must Bring Tacos." ... If you've got a newborn at home, then guests should be required to bring sustenance. And rosé.
"If you're Amazon, a Babysitter, or Joanna Gaines, we're home." ... Priorities. Mom needs her essentials, her me-time, and her farmhouse-inspired aesthetic. 
Now go check out our favorite #momlife letter-board quotes, here.
MORE DESIGN TIPS FROM MOMTRENDS
PIN IT!
Need more ideas on what to do with the kids? Be sure to follow our Organization board on Pinterest here.
This is not a sponsored post. It may contain affiliate links. All opinions are our own.