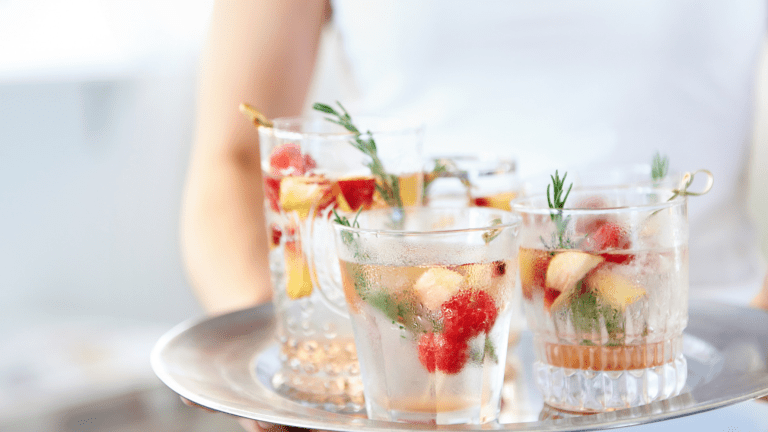 Publish date:
Mocktails to Ring in the New Year
A lot of us love our nightly glass of wine. It's our reward for getting through a stressful day and manic night, raising kids, slaying work, making meals, and doing all of the things. And that first sip of post-baby-bedtime vino can feel heavenly, indeed. But you know what also feels pretty darn good? Not waking up with a headache. 
Sadly, that's where I'm at these days. As much as I adore a good Cabernet, even one pour leaves me feeling exhausted and muted. And since I've never been a drinker of anything else, I need not bother trying other mixed drinks, hard liquors, beers, or wine varietals. 
That's why I've been jumping on the mocktail train these last few months. While all my girlfriends are toasting on our Zoom meet-ups with champagne, wine, and margaritas, I'm blissfully sipping on fresh grapefruit in bubbly water, knowing that Imma thank my good sense in the morning.
If you're thinking about reducing your alcohol intake in the New Year or jumping on the Sober Curious trend (it's still going strong -- in spite of 2020's twists and turns!), we have some tasty suggestions for you. We've rounded up some amazing mocktail options to help you ring in midnight and celebrate in style sans hangover. Enjoy!
Blueberry Mint Spritzer Mocktail

Fun Ways to Discover Venice Italy with Your Family
Greetings from Italy wear the gelato is rich, the clothes divine and the scenery is inspiring. Now that I've been to this fine city in the north of Italy, twice, I've amassed a list of favorites to share. These are some fun ways to discover Venice, Italy with your family. ...read more
Here's What No One Tells You About Olive Oil
produce is at its absolute PEAK right now. It's the time to prepare fresh veggies and fruit with ease and simplicity. When it comes to cooking, the farmer's market is my muse. As I prepare some of my summer harvest favorites, I'm sharing a little secret, what you put ON the ...read more
Almost-a-Cocktail-Raspberry-Lime-Mocktail
Ginger-Beer Non-Alcoholic Moscow Mule
Grapefruit and Vanilla Sparkling Mocktail
However you are choosing to see this challenging year off and welcome a new hopefully brighter one, we hope you enjoy! Cheers to beginnings.
Want more from Momtrends?
1. How to Keep Your New Year's Resolutions