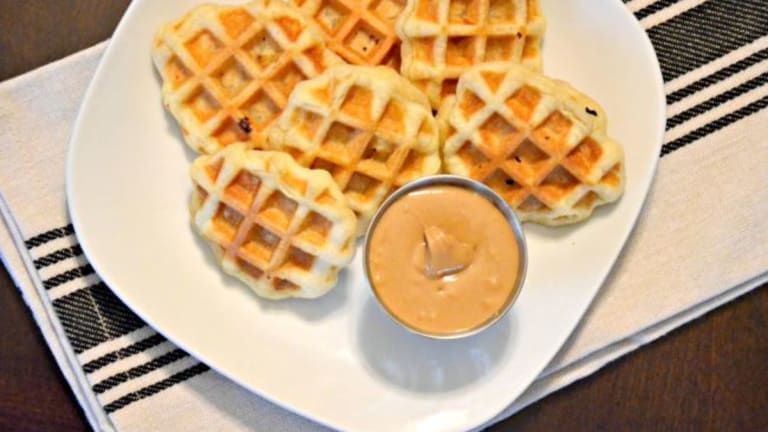 Mini Banana Waffle Pies
A perfect waffle recipe that makes for a perfect breakfast or after-school snack.
School has started back for many (us included!), and today's Kid's in the Kitchen recipe makes for a perfect breakfast or after-school snack. We made ours for an after-school snack the other day and my second grader loved it. We call this recipe Mini Banana Waffle Pies With Peanut Butter Dipping Sauce and we think your kids will love it.
Related: Six creative waffle recipes
We made Mini Banana Waffle Pies with Peanut Butter Dipping Sauce - and we made them with canned biscuits! Yes canned biscuits. Yes, we named them waffle pies. Yes, you'll love them!
My daughter named them "waffle pies" since she excitedly said they were like little pies. We paired two classics together, banana and peanut butter in these cute little mini biscuit waffles.
Mini Banana Waffle Pies
Ingredients:
Honey flavored biscuits in a can
Bananas
Peanut Butter
Honey
Special tools: waffle iron
Directions:
Cut each biscuit into 4 pieces.
Cut each 1/4 in half horizontally.
With your fingertips flatten the pieces until they are bigger than a slice of banana.
Sandwich the banana in between the 2 flattened pieces and pinch well around the edges.
Cook in lightly sprayed waffle iron for 2 minutes.
Let cool and serve with peanut butter and honey dipping sauce.
For this after-school snack, I did most of the cutting and flattening of the biscuits. My little sous chef did the stuffing and pinching the bananas into the little pockets.
We used a fork to help crimp the sides together and then sort of smoothed them back out with our fingers before popping them in the waffle iron.

We worked together to create this quick and yummy snack. We have a mini (half) waffle maker so we only made 2 mini waffle pies at a time but if you have a bigger waffle maker it would be even faster.
We mixed in a little dollop of honey with our peanut butter just to make it easier for dipping and to add an extra layer of flavor in with the peanut butter. We used our favorite local honey from our last farmer's market trip.
These Mini Banana Waffle Pies were such a hit! A comforting after school snack on a rainy day. It's always great to think something up and have it work out well and taste delicious!
MORE BREAKFAST IDEAS FROM MOMTRENDS
PIN IT!
Use Pinterest to save your favorite recipes. Be sure to follow our Kid Food Pinterest board here.
This is not compensated for this post.