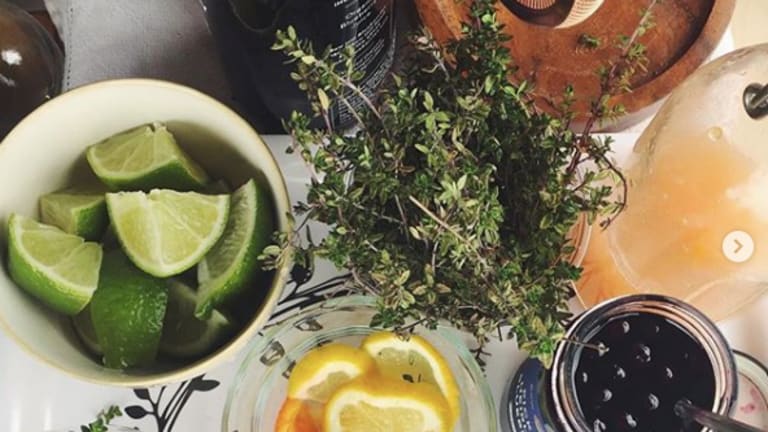 Midsummer Garden Mocktail
Midsummer gardens are beginning to explode with fruits, berries, and fresh produce and this fact always makes me thirsty! I drink from my garden as often as I eat from it, and this "garden to glass" lifestyle has begun to change the way I walk through a farmer's market, read a restaurant menu, and host a party. In my home state of Washington, by late June hearty blueberries are bursting off the bushes and being consumed by the handful by my kids and myself, and culinary English is budding May-July. The combination of these two is like a scent and taste memory in a bottle, and tastes like a summer day to me.
The versatility of blueberry and lavender together is another key reason why I love to use the pairing. They work well in so many ways that this syrup has become a pantry staple for me, because I can count on what else I have in my fridge or growing in my garden beds to bring a fresh variation with ease. And in summertime especially, I can't think of a better requirement for any recipe than ease!
Lavender and blueberry play nicely with any citrus (lemons for a super fresh and unique lemonade or, as we've done here with a squeeze of lime, are my two favorites), work well when combined with other herbs (you won't be disappointed by muddling in fresh mint, sage, or thyme), and work with every spirit I've tried: vodka, gin, bourbon, and even white rum all work.
Perhaps best of all is letting them shine on their own, for a robustly fresh drink that packs flavor without any alcohol at all. These drink syrups contain no chemical preservatives, coloring agents, or anything else beyond fresh fruit, herbs, sugar, and water and only fresh whole produce is used when creating them, for the optimal flavor. For a morning or afternoon gathering, an indulgent afternoon pick me up, or any other reason you'd reach for a mocktail, I recommend this Midsummer Garden Mocktail.
Midsummer Garden Mocktail (makes one drink)
· 1 ounce Blueberry Lavender Simple Goodness Syrup
· 5 ounces club soda
· Squeeze fresh juice from 1/4 of a lime
· 1 Teaspoon of Bowhill pickled blueberries
To make: Add pickled blueberries and Blueberry Lavender Simple Goodness Syrup to a stemmed wine glass. Top with chilled club soda. Squeeze in fresh lime juice, stir.
For a party: Make a tray full for guests, or set up a DIY mocktail bar with all ingredients, a bucket of ice, and a small recipe card for guests to read and follow instructions.
Post and recipe by Belinda Kelly, Happy Camper Cocktail Co. Photos via Happy Camper Cocktail Co. Instagram