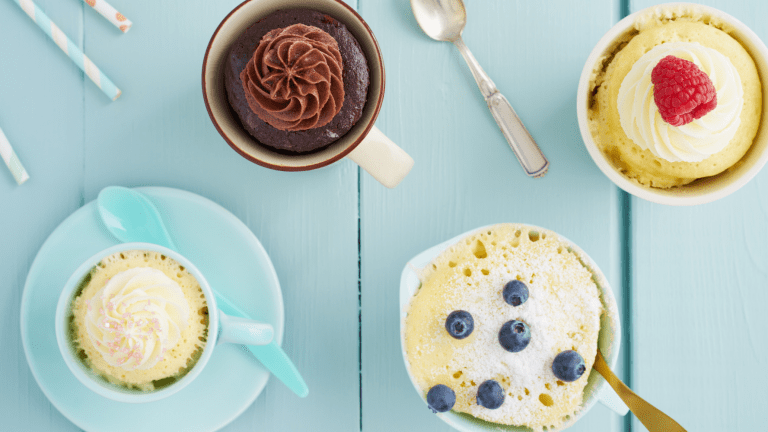 Publish date:
Microwave Mug Cakes—Dessert in 60 Seconds
Sweet In-a-Pinch Recipes
I'm going to admit something quasi shameful: tonight, in an act of total desperation, I ate a heeping scoop of raw chocolate-chip cookie dough. (And not the kind that's meant for eating out of the jar.) I know, I'm a monster.
It's just that I desperately needed something sweet and decadent and chocolatey, and I didn't want to go through the effort of plopping perfectly round balls of dough on a sheet. Okay, that is beyond lazy; the actual truth is that I didn't want to wait the 12 minutes it takes to actually bake them in the oven followed by the obligatory five minutes of cooling time. So, yeah, I risked salmonella for a quick sugar rush.
I felt guilty about going for round two, so you know what I did? I plopped a spoonful into a cup and threw it in the microwave for 30 seconds. Honestly, I don't even know if that was long enough to kill the potential bacteria, but it abated my sudden panic. And then I was caught red-handed.
"Mommy, what are you doing?" 
TAKING MY MEDICINE, NONE OF YOUR BUSINESS, DON'T LOOK AT ME, GO AWAY.
Eh-hem. Anyway, lest you want to stoop to my pitiful level, there are much in-a-pinch better alternatives. Safer alternatives. But equally easy alternatives! All it takes is a quick Google search, a few simple ingredients, and a tiny bit of patience. If you can fester some up--which apparently, I cannot. I rounded up a few delicious and super-easy dessert-mug recipes. They all require minimal ingredients and time--because, sometimes you just got to satisfy that hankering fast!
You can make lots of different desserts in 60 seconds (give or take) in your microwave.
One-Minute Vegan Double-Chocolate Cake via Chocolate Covered Katie
Cinnamon Nut Mug Cake via Budget Bytes

5 Pretty Ways To Organize Your Jewelry
I admit - I'm guilt. Despite my best efforts, my "jewelry drawer" has become a tangled mess of necklaces, bracelets and earrings. This cluttered collection not only makes it hard to see what I have, but difficult to untangle the pieces I do want to wear! This summer, I'm ...read more
This Year's Coolest Jumbo Pool Floats
Pool season is almost here! I can't wait to relax, read a book, and sip a cocktail while lazily drifting in an oversized float. (Just kidding, I have two toddlers--but a swim mama can dream, right?). If you've got a staycation planned, check out this year's coolest jumbo pool ...read more
Crystal Clear and Pristine: Pool-Cleaning Tips
Tropical Storm Isaiah gave us quite the midsummer surprise here in the suburbs of New York City. We just got our power back on after a whole week of darkness! With trees down, debris everywhere, and lots of uncertainty, one thing we forgot to check on: our above ground Intex ...read more
3-Ingredient Peanut-Butter Mug Cake via Listotic
Vanilla-Confetti Cake via Just So Tasty
Mug Coffee Cake via The Typical Mom
Keto Microwave Cheesecake via Onion Ring and Things
Microwave Chocolate-Chip Cookie via 40 Aprons
Nutella Mug Cake via Just So Tasty
Strawberry Cake in a Mug via the Typical Mom
Want more from Momtrends?
1. Valentine's Day Breakfast-in-Bed Recipes
2. Easy Last-Minute V-Day Desserts and Ideas
This is not a sponsored post. All opinions are our own.