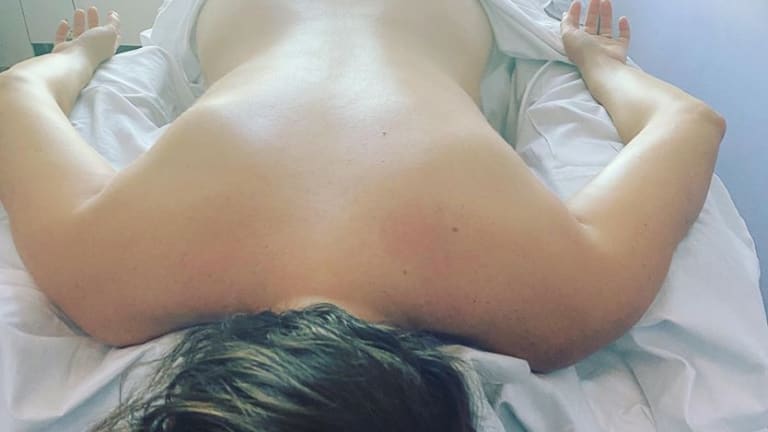 Publish date:
Pregnancy Massage Offers Expecting Mom's Bliss
Checking out Maternal Massage to help moms through pregnancy and beyond.
Checking out Maternal Massage to help moms through pregnancy and beyond.
Pregnancy is a blessing to be sure, but it also has a few--er--side effects that women might not love. A little pampering during pregnancy is key to a new mom to be's happiness. Between my skin going berzerk and a weird shooting pain in my hip, I felt less than glamorous throughout the nine months. Take my advice and invest in beauty and spa treatments--think of it as a Valentine to your body.
Related: Pregnancy Safe-Skincare and Beauty Products
For me, pregnancy massage was an incredible investment. I headed off for monthly sessions at Manhattan's Maternal Massage and More. I came in hobbling and left blissed out. My advice is to look for a massage therapist that makes use of the bodyCushion support system. The bodyCushion alleviated the pressure on my neck, breasts, and lower back and let me rest on my belly (oh how I missed that when I was pregnant). I'm not making this up. 

5 Pretty Ways To Organize Your Jewelry
I admit - I'm guilt. Despite my best efforts, my "jewelry drawer" has become a tangled mess of necklaces, bracelets and earrings. This cluttered collection not only makes it hard to see what I have, but difficult to untangle the pieces I do want to wear! This summer, I'm ...read more
This Year's Coolest Jumbo Pool Floats
Pool season is almost here! I can't wait to relax, read a book, and sip a cocktail while lazily drifting in an oversized float. (Just kidding, I have two toddlers--but a swim mama can dream, right?). If you've got a staycation planned, check out this year's coolest jumbo pool ...read more
Crystal Clear and Pristine: Pool-Cleaning Tips
Tropical Storm Isaiah gave us quite the midsummer surprise here in the suburbs of New York City. We just got our power back on after a whole week of darkness! With trees down, debris everywhere, and lots of uncertainty, one thing we forgot to check on: our above ground Intex ...read more
Benefits of Maternity Massage
According to a study done by the Univ. of Miami, pregnancy massage can help:
* Lowered anxiety
* Decreased back and leg pain
* Improved sleep
* Decreased levels of the stress hormone norepinephrine
* increased levels of the "feel-good" hormones serotonin and dopamine
* decreased levels of cortisol, an indicator of stress
* an overall improvement in mood
More about Maternal Massage
Janet V. Markovits has been a NY State licensed massage therapist since 1997. A graduate of the Swedish Institute of Massage, Janet is Nationally Certified in Therapeutic Massage and Bodywork and is a member of the American Massage Therapy Association. 
MORE PREGNANCY HELP FROM MOMTRENDS
PIN IT!
Use Pinterest to save your favorite parenting and pregnancy resources. And be sure to follow our Pregnancy-101 board here.
None of the brands mentioned in this article paid for this post.The views are entirely those of the editor. This article may not be reprinted without permission. We encourage readers to shop affiliate links on this feature to help support Momtrends.