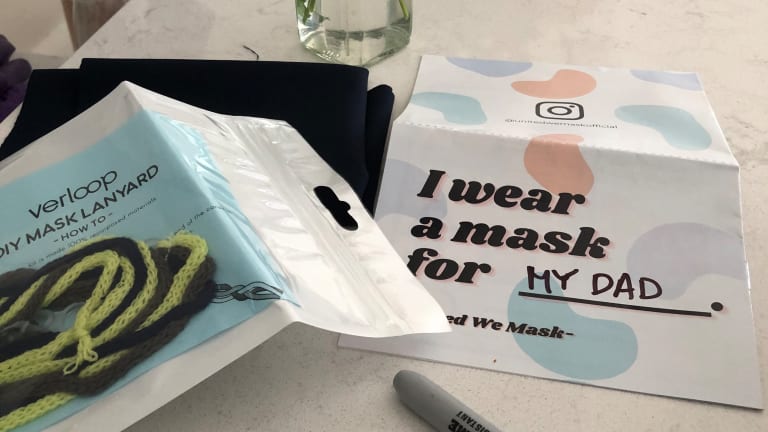 Mask Up and Step Up: How to Make a Difference
United We Mask Is on a Mission to Help Get Us Through the Pandemic
When I first told my kids that real in-person school was on for the fall they were excited. After months of remote learning they were so pumped to see their friends and be with their teachers and -- you know -- get out of the darn house.
But when i explained that they'd have to wear masks throughout the day, they were less than enthused -- and understandably so. In an ideal world, we would not have to wear cloth over our mouths and noses in public settings. Alas, our world is far from ideal right now -- and with COVID-19 raging all around the country, masks are an absolute must.
The good news: my amazing elementary aged children adjusted pretty quickly and painlessly. In fact, on a few occasions these last few weeks, they got in the car at school pick-up and completely forgot to take their masks off. We walked into our house and they both were both still wearing them while washing their hands and requesting snacks and taking out homework folders. "Hey, guys, you can take off your masks." OH RIGHT, YEAH, WE FORGOT!
It's practically become a second skin for them at this point, and they're totally unfazed by it.
Here's what I'm saying: if all the young school kids and teachers and doctors and essential workers can wear these bad-boy masks all day, every day, we can do our small part and put them on while in all public settings, too. It really is the least we can do!
Last week, Momtrends got to participate in a Maskerade virtual event hosted by United We Mask, a non-profit organization that seeks to encourage sound public health practices and provide homemade masks to communities around the states -- leaving N95 masks for members at higher risk of COVID-19 exposure.
During the engaging online event the kids and I learned all about why masks are so important (we already knew, of course, but some reinforcement never hurts -- especially as pandemic fatigue sets in!). We also got some tips and tricks on how to avoid pesky "maskne" (one word: toner!), got some ideas for styling our masks, and enjoyed a reading of the sweet and informative children's book Smiling from Ear to Ear, by Kaitlyn Chu.
Overall, it was a great reminder that the simple act of wearing a mask is in itself an act of kindness.
Want to join our maskerade community? We're sharing some inspiration. Mask up and step up -- it feels good to do good!
1. Make wearing a mask more fun, less scary. If you have a child who is showing resistance to putting on a mask (recommended for age 2+) or seems nervous around people wearing them, you'll want to snag a copy of Smiling from Ear to Ear. It makes mask-wearing approachable and silly and fun!
2. Shop the United We Mask holiday mask collection. These festive prints are available for adults and children -- so you can have a merry matching moment with your kiddos! Made with 100 percent cotton or a cotton-flannel blend, they include a filter pocket and adjustable elastic ear straps for ultimate comfort, convenience, and protection. For every mask sold, United We Mask donates one to a frontline worker.
3. Learn to make your own PPE at home. Feeling inspired? United We Mask offers lots of tutorials on how to make your own sew or no-sew masks and gear. From a tee-shirt sleeve mask to a nose-point mask to a headband to take the pressure off your ears, you can get your DIY on and protect those around you. Win-win.
4. Donate to the Boys and Girls Club Mask Making Initiative. United We Mask is on a mission to provide 10,000 mask-making kits and children's books to the Boys and Girls Club of America. Making their own mask can be a source of pride for kids. As a result, they are more likely to wear the mask. PPE compliance ultimately leads to a safer community -- so this is a huge win for everyone.
5. Host a virtual mask making event. Want to make masking a social affair? Host a virtual event with United We Mask. It makes a great company "retreat!" It's a way to bond with co-workers who are individually working from home -- and come together for an important cause.
6. Style your mask. Yes, a mask is your protective gear, but that doesn't mean it has to be plain and boring. Not only should you choose prints that match your style aesthetic, you can also accessorize masks with fun and customized lanyards and mask chains. What's more, allowing children to express themselves creatively is a great way to get them excited about mask-wearing -- and more willing to get on board.
7. Protect your skin. Teens, tweens, and adults who wear masks throughout the day may find that their complexion pays a price for their compliance. But with a few key steps you can ensure that your skin stays smooth, clear, and clean. First, wash your face with a gentle cleanser twice daily. A facial toner can also help oily or pimple-prone skin get even cleaner, warding off potential breakouts caused by mask-trapped bacteria.
With more universal mask compliance and safety precautions in place, we can get through this challenging time together. United We Mask is on a mission to make sure we all do our part. To learn more visit, https://unitedwemask.org/.
Compensation was provided by United We Mask via Momtrends. The opinions expressed herein are those of the author and are not indicative of the opinions of United We Mask or Momtrends.